Bioresponsive Materials Lab People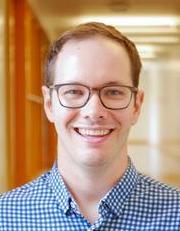 John Robert Martin
Assistant Professor, CEAS - Biomedical Eng
842 MANTEI
513-556-6548
John R. Martin is an assistant professor in the Department of Biomedical Engineering in the College of Engineering and Applied Science at the University of Cincinnati. Dr. Martin completed his undergraduate degree at the University of Kentucky where he majored in Biosystems Engineering before obtaining a Ph.D. in Biomedical Engineering at Vanderbilt University investigating cell-degradable tissue engineering scaffolds. Following his doctoral work, he completed a postdoctoral fellowship at the Massachusetts Institute of Technology in the Department of Chemical Engineering where he researched drug delivery systems for the regeneration of craniofacial bone tissue.
Dr. Martin leads the
Bioresponsive Materials Lab
at UC, exploring "smart" biomaterial systems that leverage precise cell-generated signals (including reactive oxygen species and enzymatic activity) to activate biomaterial functionality and guide tissue regeneration. This interdisciplinary research integrates polymer science and materials engineering alongside pharmacology and biology to build new systems for regenerating orthopedic injuries in the clinic.
Karina Bruce, B.S.
Karina Bruce is a first year Ph.D. student developing inflammation-responsive antibiotic coatings to combat bacterial infections in bone fractures.
Dylan Marques, B.S.
Dylan Marques is a second year Ph.D. student working towards a dual phase drug delivery system for regenerating cranial defects.
Reinaldo Dos Santos, B.S.
Reinaldo Dos Santos is a second year Ph.D. student developing cell-degradable tissue engineering materials for regenerating bone defects and improving fracture fixation.
Ardeena Ahmed
Ardeena Ahmed is a second year Biomedical Engineering undergraduate student developing new cell-degradable bone cements.
Alan Fullenkamp
Alan Fullenkamp is a fifth year Biomedical Engineering undergraduate student developing new oxidation-sensitive chemistries, and is looking to attend medical school in spring 2022.