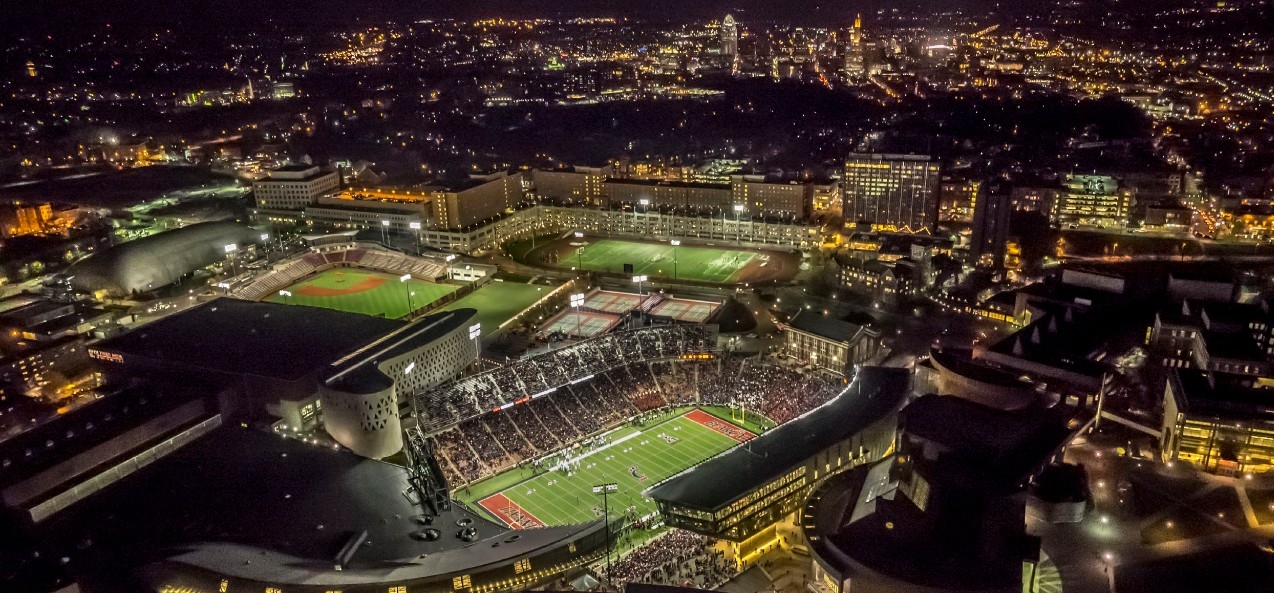 About the University of Cincinnati
Founded in 1819, the University of Cincinnati (UC) has inspired countless transformative ideas and it is that sort of innovation that drives hundreds of programs here, dozens of which are ranked in the Top 50 by U.S. News and World Report. UC offers students a balance of educational excellence and real-world experience. UC is a premier academic institution and a public research powerhouse where nearly 46,000 undergraduate and graduate students are empowered daily to challenge and change the world through some serious real-world learning opportunities.
As one of the largest employers in the region, UC's economic impact is over $4 billion. UC is perhaps unique in boasting distinguished scholarship and research while maintaining a deep commitment to accessible education. UC has supporting cutting-edge research earning more than $950 million in active award funding, innovative teaching, and public service. More than 300,000 living alumni count themselves as Bearcats — united not just by their loyalty to our nationally known sports teams, but by their common love of the place, the people, and the ideas that make up the University of Cincinnati.

The North American Manufacturing Research Institution of SME (NAMRI/SME) brings together researchers from leading companies, government laboratories, academic institutions, and industrial think tanks located around the world for the advancement of the scientific foundation of discrete-parts manufacturing. NAMRI/SME's annual conference, the North American Manufacturing Research Conference (NAMRC), is a prominent international forum for the presentation and discussion of technical innovations and manufacturing research.
NAMRC is recognized as North America's preeminent and longest-running international forum for research in advanced manufacturing. An annual event since 1973, the conference attracts global academicians, government and industry researchers, engineers, students, and leaders in manufacturing to interact with each other and advance the manufacturing field. NAMRC features peer-reviewed papers, keynotes, special opportunities for networking and collaboration, and recognition of research implementation, service, and achievements.
SME has been supporting the manufacturing industry for over 85 years. Working closely with manufacturing professionals, companies, educators, schools and communities, SME shares knowledge and resources that generate solutions to manufacturing industry challenges.
SME's key focus area include: The state of manufacturing: In order to bring manufacturing into the mainstream, SME feels it is critical to showcase career options and exciting opportunities available in manufacturing and inspire youth to get involved.  Advanced manufacturing technology: Through members and industry experts, SME collaborates, aggregates and disseminates technical information and expertise. The workforce: Manufacturers rely on a skilled, technical and professional workforce to drive innovation, increase productivity and remain globally competitive. SME is a leading resource for manufacturing knowledge and training.

The Manufacturing Engineering Division (MED) of ASME sponsors the Manufacturing Science and Engineering Conference (MSEC) every June. MSEC is the foremost annual forum for the scholarly exchange of advanced manufacturing research knowledge. It is intended to disseminate the most recent developments in manufacturing research through technical presentations, poster sessions, and panel sessions.
Since 2011, MSEC has been co-located with NAMRI/SME's North American Manufacturing Research Conference (NAMRC). Together, these co-located conferences represent the largest advanced manufacturing research conference in North America. These conferences attract more than 500 attendees who can avail themselves of more than 250 technical presentations, multiple panel discussions, poster sessions, lab and industry tours, workshops, and an early career forum. MSEC, in conjunction with NAMRC, typically includes more than 80 students (from U.S. institutions) who are presenting their research and looking for career opportunities.

MSEC is the place to learn about the latest manufacturing research, talk with the researchers pushing the frontiers, network with R&D experts, and meet the future R&D workforce.
ASME is a not-for-profit membership organization that enables collaboration, knowledge sharing, career enrichment, and skills development across all engineering disciplines, toward a goal of helping the global engineering community develop solutions to benefit lives and livelihoods. Founded in 1880 by a small group of leading industrialists, ASME has grown through the decades to include more than 140,000 members in 151 countries.
For more than 100 years, ASME has successfully enhanced performance and safety worldwide through its renowned codes and standards, conformity assessment programs, training courses, and journals.
ASME also produces nearly 40 international conferences. These industry-leading events feature advanced research and technical content spanning a range of industries impacted by mechanical engineering, including energy production, energy sources, advanced manufacturing, and engineering sciences.