Protege Undergraduate Research Program
The protege program was started by the College of Engineering and Applied Science during the summer of 2013. The goal of the program is to make students aware of opportunities for careers in research. These opportunities are for outstanding first-year students to work with leading CEAS research faculty in their faculty labs during the summer after their first year in CEAS.
The program initially included five to six students per year but in 2016, the program was expanded to eleven students and included research at industrial and governmental partners. The program has been administered by a committee of senior faculty members (J. Boerio, T. Mantei, and R. Huston)

Learn more about undergraduate research
The Protege program enhances the student experience by having them learn to conduct research, work as part of a team, keep laboratory notebooks, write reports, and make presentations.
In addition, students are paid at the rate of $15.00 per hour for 40 hours of work each week between 12-15 weeks in the summer. The length of the program is at the discretion of the mentor, 12 week being the minimum.
The opportunity allows students to determine if they wish to pursue a co-op position and career in research. At the same time, participating industrial and governmental partners have an early opportunity to recruit highly talented and motivated student researchers.

Each spring, first year CEAS students who performed at a high level during the autumn semester are identified by a CEAS faculty committee. Most participating students have grade point averages of 3.75. Students are interviewed to determine interest in research careers and availability to work in Cincinnati or at the location of an industrial or governmental partner over the summer.
Interviews are conducted by the CEAS faculty committee and by participating partners in which a diverse groups of students are selected.

Report for work at appropriate times
Learn as much as possible about your project
Show interest in and enthusiasm for the project
Do good research
Participate in professional development workshops offered by UC
Submit a short mid-summer report
Submit a short final report
Participate in final symposium
Don't work more than forty (40) hours per week!
Contact Dr. James Boerio, (f.james.boerio@uc.edu) if there are any problems
Types of Research Projects
Research projects that are involved with the Protege program must advance the state of knowledge or understanding in a particular field. Students do not usually define the project and are defined by the mentors. These are not make-work projects. Protege students usually contribute to an important, larger project that are usually funded by some agency or industry that are important to the company. Students and mentors must agree on the project
2023 Undergraduate Research Topics
All mentors have extensive research programs
All mentors are known for working with young researchers
Faculty usually have extensive research programs
Have graduate students that help mentor Protege students
Industry mentors have group members that help mentor students
Protege mentors are expected to work with beginning students to develop their research project. Mentors should provide students with background information about the project and be able to answer the following:
What is the goal?
What approach is envisioned?
What results are being sought?
Protege mentors should provide resources required to accomplish the project and be available to provide ongoing advice on the project. They should personally spend about three (3) hours per week with the student.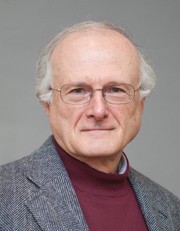 F James Boerio
F. James Boerio received the B.S. Degree in Physics from Case Institute of Technology and the M.S. and Ph.D. degrees in Macromolecular Science from Case Western Reserve University.  He was appointed as Assistant Professor of Materials Science in the Department of Materials Science and Engineering at the University of Cincinnati in 1970 and promoted to Professor of Materials Science in 1977.  He served as Interim Head of the Department of Materials Science and Engineering during 1991-92 and again during 2003-04.  Dr. Boerio was appointed Head of the Department of Engineering Education on January 1, 2008 and currently serves as Interim Head of the School of Engineering Education.  His educational research interests include the effect of factors such as institutional infrastructure, active learning, and peer-level tutoring on learning in engineering.  Dr. Boerio is also interested in developing professional skills, including communication, problem-solving, and teamwork, in beginning engineers.    
            Dr. Boerio is a member of numerous technical societies, including the American Society for Engineering Education, American Physical Society, American Chemical Society, Materials Research Society, Society for Applied Spectroscopy, and American Vacuum Society.  He served as President of The Adhesion Society from 1992-94 and currently serves as an Associate Editor of The Journal of Adhesion. 
Dr. Boerio was recognized as an outstanding teacher by the Engineering Tribunal in 1983 and as "Professor of the Year" for 2002-03.  He received the College of Engineering Research Award in 1989 and the "Dean's Award for Educational Innovation" in 2001.  Dr. Boerio was elected a Robert L. Patrick Fellow of The Adhesion Society in 1997 and received the Adhesion Society Award for Excellence in Adhesion Science, sponsored by 3M, in 1999.