Sustainable Solutions Laboratory
The Sustainable Solutions Lab focuses on drinking water quality, supply, treatment, and purification. This includes wastewater and industrial wastewater treatment using physical/chemical processes. Other areas of study include:
Transition metal catalysis
TiO2 photocatalysis, UV-enhanced technologies, Fenton's and Photo-Fenton's hydroxyl-radical based processes
Other radical-based (i.e., superoxide, sulfate) destructive chemical oxidation technologies
Membrane processes for drinking water, wastewater, and industrial water purification.
The laboratory is equipped with various technologies for the treatment and purification of water. Equipment includes:
Novel UV/TiO2 suspension-type and immobilized-type photocatalytic reactors for water treatment
UV and UV/H2O2 flow through photoreactors for water treatment and disinfection (Trojan UVLogic)
Transition metal-based reactors for water treatment
Reactors for dark and UV-enhanced oxidation of organics using the Fenton's reaction
Reverse osmosis systems
Membrane systems for studying the effect of fouling and biofouling in membrane processes for water purification
Typical instrumentation and devices for determining drinking water quality and UV radiation properties.

781 Engineering Research Center
2901 Woodside Dr.
Cincinnati OH 45221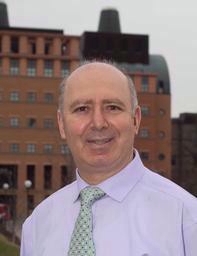 Dionysios D. Dionysiou
Research Lab
Professor Dionysiou teaches a graduate-level laboratory course on Unit Operations and Process Monitoring for the Treatment of Polluted Water and Air and an undergraduate course in Environmental Engineering Fundamentals and Process Design.