Chemical and Environmental Engineering Newsletter
UC successfully comes to last weeks of our hybrid fall semester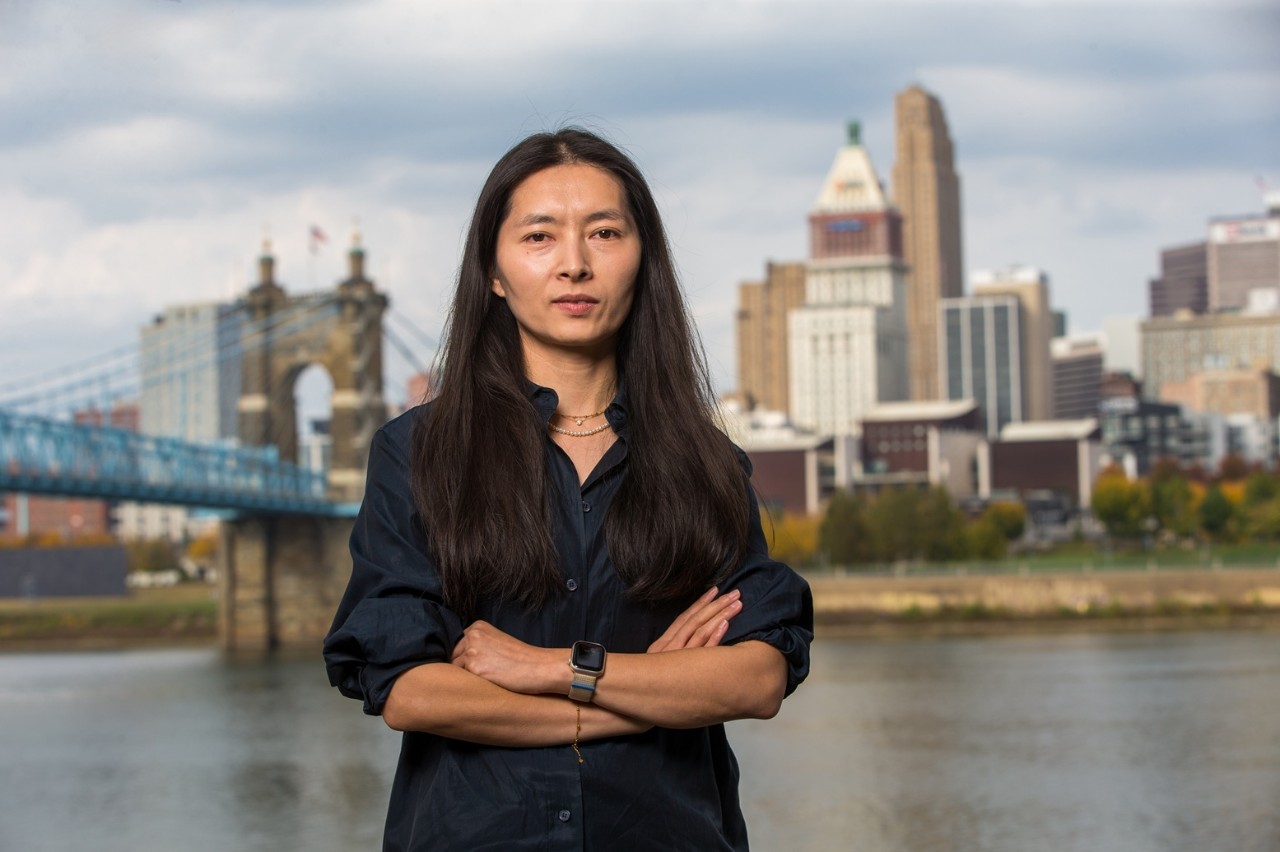 Due to the uncertainty of the path of COVID-19, UC transitioned to a hybrid model for our fall semester.  Lectures were primarily offered online and student populations in laboratories were halved to maintain social distancing requirements.  We accomplished this with more laboratory sections as well as the extraordinary effort of many of our faculty and staff.  For these in-person courses, we sought to spread out the students while at the same time, ensuring they had the requisite hands-on experience to be successful in their future careers.  Our faculty continues to investigate optimal methods of instruction during the pandemic restrictions and we continue to publish not only in top research journals, of which you will read of many accomplishments in this newsletter, but in the educational arena as well.  For example, Dr. Norm Loney, a professor educator in the Chemical Engineering Program, continues to present and publish in his investigation of the relationship between spatial skills problem solving in ChE.  Together, we will continue to work diligently in these areas for our upcoming spring term, and hold fast to our educational ideals as well as to the hope that a vaccine will allow us to come together once again in 2021.
Dr. Aashish Priye works to develop Covid tests using a smart phone
Assistant Professor of Chemical Engineering, Dr. Aashish Priye is working to develop an ultra-portable test for infectious diseases, such as coronavirus, using a heating plate, a light-emitting diode and a smartphone. The smartphone camera can also be used to detect how much virus is present in the sample. Such a development would allow testing everywhere and would most benefit peoples in areas remote from medical facilities.
Professor Dionysios Dionysiou leads team to develop biosensor to detect toxins in water sources
Dr. Dionysiou, a Professor in the Environmental Engineering Program, led a team of University of Cincinnati environmental engineers and chemists in the development of a biosensor to detect toxins in surface water such as streams, rivers and lakes. This research, funded by the National Science Foundation, specifically addresses the importance of detecting toxic products of cyanobacteria algal blooms, which are formed mainly by agricultural runoff. The group developed a sensor to identify and measure microcystins, toxins produced from algal blooms which can cause skin irritation, nausea or vomiting if swallowed, and liver damage if large amounts are ingested.  Professor Dionysiou was also recently named as a Clarivate Analytics Highly Cited Researchers of 2020.  This group includes the world's most influential researchers as identified by the production of multiple highly-cited papers that rank in the top 1% by citations for field and year in the Web of Science.
Dr. Yoonjee Park is awarded Lois Hagleberger Huebner Young Investigator Award
Congratulations to Dr. Yoonjee Park, an Assistant Professor in the Chemical Engineering Program, who recently received a Lois Hagelberger Huebner Young Investigator Award from the Ohio Lions Eye Research Foundation. This foundation supports research on numerous eye diseases at a variety of Ohio Institutions. Dr. Park's proposal is titled, "Dose-Controlled Co-Delivery Implant for Chronic AMD Treatment" and the award is $214,000 (direct cost) for two years. Dr. Park is also among UC's KL2 Research Scholars.  The objective of the KL2 Scholars Program is to successfully train diverse, multidisciplinary junior faculty members to conduct innovative, team-based, community-engaged clinical and translational research, develop sustainable careers in clinical and translational research and disseminate, and implement research findings that improve health outcomes and reduce disparities.  Congratulations Dr. Park!
NSF Awards Partnerships for Innovation - Technology Translation (PFI-TT) grant to Dr. Vesselin Shanov-PI (ChE) and Dr. Noe Alvarez-CO-PI (Chemistry)
This $550,000 project is focused on creating a sensor and related technology for measuring of lead concentration in drinking water. Reliable detecting and quantifying low concentrations of lead in water is a challenging task, given the negative health impact of this heavy metal particularly on children. Currently, there is a lack of continuously monitoring lead devices on the market. To address this, a new sensing element is proposed based on carbon nanotube fibers, which lowers the limit of detection and allows the sensor electrode to be miniaturized. The sensor is using an electrochemical analytical technique to trace lead in water. This approach offers simultaneous multielement detection for lead, copper, cadmium and mercury with 3.5 parts per trillion limit of detection for lead, thus outperforming any similar devices. Thanks to its simplicity and compactness, the sensor allows deployment in industrial facilities processing water and in households. Factors that control the reliability and robustness of the involved electrochemistry and the sensor itself, will be determined in preparation of the device for mass production by a leading national water processing industry. The main goal is to provide for the first time to the water consumers a simple and inexpensive tool for lead quantification. The broader impact/commercial potential of this project lies in addressing a sensitive to the society problem related to lead poisoning through drinking water and its prevention.
12th Annual 'Evening with Industry' held virtually in September, great success reported.
This year's event was sponsored by Society of Women Engineers and hosted 12 virtual break-out rooms with professionals from various companies.  The event not only allowed DCEE students the opportunity to learn about various career pathways and gain a clearer vision of future job responsibilities, but also allowed them to obtain valuable experience in virtual networking.
Professor Jingjie Wu joins team of researchers at the University of Louisiana
Their joint project is entitled "High-Efficiency Electrochemical Conversion of CO2 to Ethylene" and the team was recently awarded 1.25 million dollars by the Department of Energy's Office of Fossil Fuel, of which $450,000 will designated to fund work in Dr. Wu's lab.  The group will develop and test technologies that can utilize carbon dioxide (CO2) from power systems or other industrial sources as the primary feedstock, with the overall goal to reduce emissions and transform waste carbon streams into value-added products.
Dionysios Dionysiou - University of California, Berkeley - National Alliance for Water Innovation (NAWI) Department of Energy -  $170,420.00
Jonathan Nickels - Oak Ridge National Laboratory - Visualization of Solvent Disruption of Biomass and Biomembrane Structures in the Production of Advanced Biofuels and Bioproducts - Department of Energy - $98,670.00
Yoonjee Park - Ohio Lions Eye Research Foundation - Biodegradable "On-demand" Drug Implant for Age-Related Macular Degeneration Treatment - $10,000.00
Patrick Ray - U.S. Army Corps of Engineers - Institute for Water  Resources (NCR) - $50,000.00
Patrick Ray - Procter & Gamble Company - P&G Water Security: Spain and Turkey - $50,000.00
Jingjie Wu – National Science Foundation - Selective Ethylene Production from Carbon Dioxide Electroreduction via Gas Diffusion Electrode Engineering - $449,003.00
ChE student Maria Novak was awarded the May CEAS Engineer of the Month.  During her tenure at UC, Maria took the opportunity to gain research experience in both the Nanoworld lab at UC, led by ChE Professor Vesselin Shanov, as well in work with Dr. Mingming Lu as part of a grant from the National Science Foundation.  As part of the ACCEND program, she was just awarded both a bachelor's and a master's degree in ChE and will now pursue a career at Proctor & Gamble. MS graduate Quinn Birch, working under Professor Dionysios Dionysiou, won the First Place Master Thesis national award from The Air & Waste Management Association. The title of the Thesis is "Sources, Transport, Measurement and Impact of Nano and Microplastics in Urban Watersheds" and the work was supported by and carried out in collaboration with researchers from US EPA. Quinn is currently working with EPA through a collaborative project and already published two journal articles.
Chemical engineering students Emily Weidner and Catherine Gottsacker participated in the summer Protégé Program, a program with offers outstanding undergraduate students in CEAS a paid summer position working with faculty researchers or industry partners.  Emily was awarded "best presentation" and a $300 prize at the final symposium. Her research presentation on tissue engineering was entitled "Alignment and Proliferation of Schwann Cells in PDVF-TrFE Scaffolding" and she worked with Greg Harris, assistant professor of chemical engineering.  Catherine tied for third place and received a $100 prize. She presented on "Lasers and Liposomes: A Literary Analysis of Controlled Drug Release" and worked with Yoonjee Park, assistant professor of chemical engineering.
Undergraduate students join Department of Energy research project on treatment and reuse of non-traditional water sources
Four Environmental Engineering undergraduate students joined the UC Agro DOE NAWI team in Professor Dionysiou's group in Fall 2020. The undergraduate students have been assisting with literature review for the treatment and reuse of agricultural drainage water to help develop a Baseline Report of current water reuse in the agricultural sector.
Hannah Leibman, a first-year student, wanted to get involved with research in order to gain experience and knowledge to help her achieve her goal of pursuing a PhD with a focus on green biotechnology. Hannah was a Goldwater nominee for her previous biology research at Western Kentucky University. Due to her interest in environmental remediation through natural systems, Hannah has been focusing on the optimization of constructed wetlands to increase contaminant removal.
Gianna Cantor, a second-year student, is interested in exploring different environmental engineering topics in her research to help her determine her future career goals. Gianna previously worked with NASA's photovoltaic department on the Mars Dust project. She is now researching membrane treatments and plant species that can selectively remove contaminants from agricultural drainage water
Sophia Pedigo, also a second-year student, wanted to get more involved with research after her previous work at UC on addressing food waste management via anaerobic digestion. Her interest in land restoration and sustainability has led her to focus on optimizing the productivity of hydroponic systems through the reuse of agricultural wastewater. Sophia plans to obtain a Masters in Environmental Engineering.
Connor O'Keefe, a third-year student, wanted to pursue research after his experience with monitoring water quality in the Little Miami River Watershed. Connor is interested in water treatment and air pollution and now focuses on ion-exchange and biological treatment technologies for the removal of constituents from agricultural drainage water. Connor plans on pursuing a Masters degree in Environmental Engineering.
UC's ChemECar team and its president, Jacob Kasik, placed third in the Northcentral Regional Conference
UC's ChemECar team and its president, Jacob Kasik, placed third in the Northcentral Regional Conference hosted by Notre Dame on Saturday, Oct. 3, 2020.   This qualified the team to participate in the National Conference that occurred on Sunday, Nov. 15, 2020.  Both events took place remotely as each team broadcast their participation live.  Teams participating at the National level included Virginia Tech, Cornell University, and University of Colorado Boulder, among many others.  After an exciting finish, the team placed 11th overall with Virginia Tech coming in first. Drs. Taso Angelopoulos and Stephen Thiel were present as Faculty Advisor and Onsite Safety Judge, respectively.  The team consisted not only of students from Chemical Engineering but also from Departments across the College.  The team used and assembly line process for preparing their own custom-made aluminum-air battery! The name of their car was "A-Salt and Battery."
Elvis Ajuazum Eghombi, a graduate student in Environmental Engineering won the Ohio Section of the American Water Works Association
Elvis Ajuazum Eghombi, a graduate student in Environmental Engineering working under the guidance of Dr. Ryan Chae, won the Ohio Section of the American Water Works Association $2,000.00 scholarship for the 2020 – 2021 school year. The scholarship will provide payment for costs associated with his degree.


UC students won second place in the Environmental Challenge International Competition
This past summer, University of Cincinnati students won second place in the Environmental Challenge International Competition hosted by the Air and Waste Management Association (AWMA). The UC Bearcat Environmental Solutions Team (BEST) comprised Andres Mata, chemical engineering graduate student who served as team lead, Sophia Pedigo, environmental engineering undergraduate student, and Kevin Johnson, chemical engineering undergraduate student.  Their challenge was to develop an organic waste management program that would divert and recycle organic materials to reduce methane emissions.  Advised by Professor of Environmental Engineering, Dr. Mingming Lu, the group decided to propose using anaerobic digestion of food waste at wastewater treatment plants.