Chemical and Environmental Engineering Newsletter
Spring sees successful completion of year of hybrid learning
Welcome! I hope our spring newsletter finds you in good health and spirits under these unusual circumstances.  Our spring semester continued in the path of a hybrid model.  Like fall, lectures were primarily offered online and student populations in laboratories were reduced to one-third to maintain social distancing by expanding the number of sections offered.  These challenges continued to be surmounted by our majors and we will soon watch our senior class leave us to pursue their various career paths.  During the coming 2021-22 academic year, we anticipate being able to offer expanded opportunities for in-person classes and campus life while keeping the safety and health of our students, faculty, staff and visitors at the forefront.  Department faculty and staff as well as our students look forward to seeing once again the bustling movement within the walls of ERC, Rhodes and Baldwin.
Professor Peter Smirniotis receives the University's 2021 George Rieveschl Jr. Award for Distinguished Scientific Research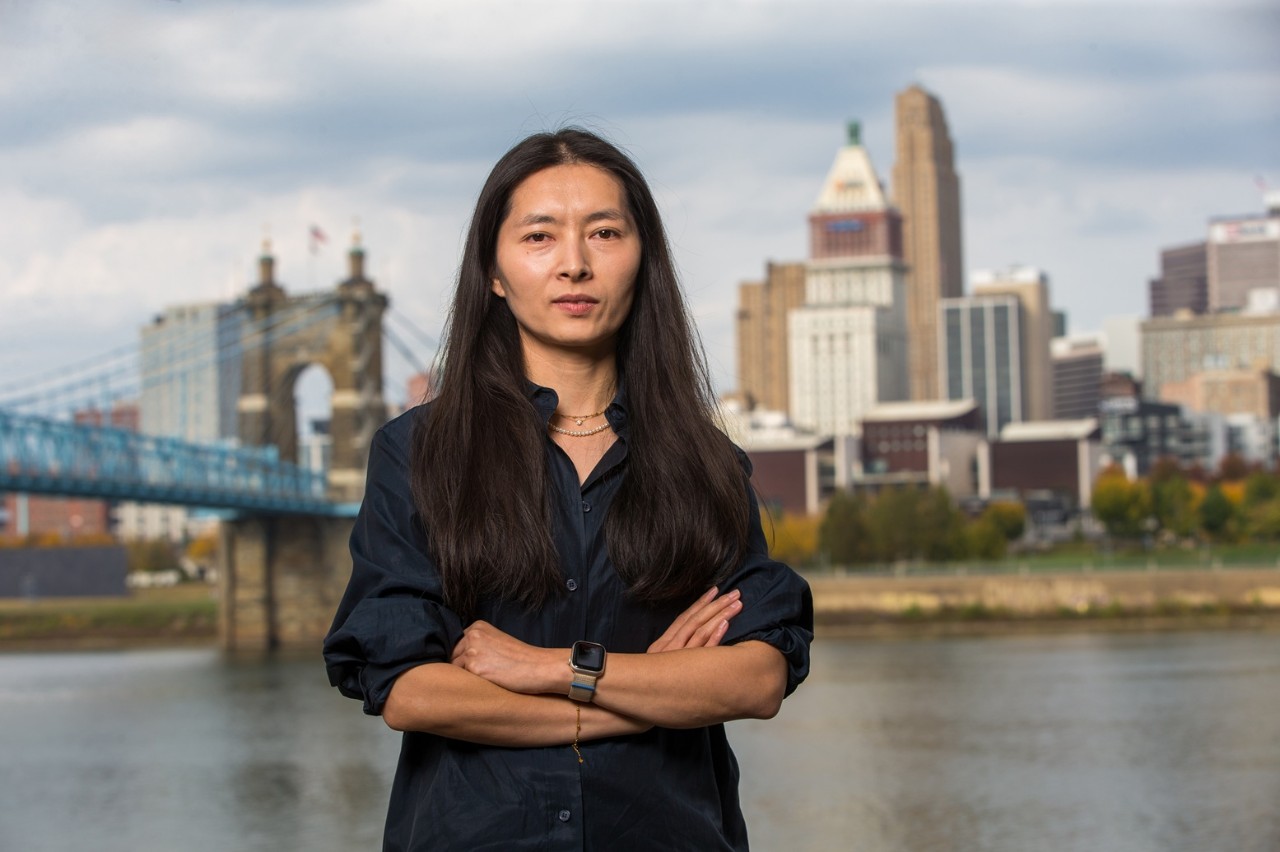 This spring, the University's highest award for research was bestowed upon chemical engineering professor, Dr. Peter Smirniotis. This award is based on research merit and its impact on the field as well as the attainment of national and international recognition for superior scholarship through publication, continued and sustained creativity, professional activities, and academic awards. Dr. Smirniotis has demonstrated excellence in all. He works in the area of heterogeneous catalysis, advanced materials, energy, and environmental restoration and his work is internationally recognized. He has received funding from sources such as the National Science Foundation, the Environmental Protection Agency, the Department of Energy, the Department of Defense, NASA and the American Chemical Society's Petroleum Research Fund. He also serves as editor for many international journals, including a recent appointment as a member of the editorial board of Journal of Catalysis. Congratulations on this highest award!
Dr. Lilit Yeghiazarian joins Ohio Environmental Advisory Council
8 DCEE Faculty take University and College Awards in Spring Ceremony
Eight DCEE faculty were recognized by the College of Engineering and Applied Science as they honor exceptional faculty and staff members with college awards each year.  Each of these recipients has demonstrated the legacy of excellence, scholarship and innovation that defines the college.  Dr. Peter Smirniotis was honored with the CEAS Research Award.  Professors Maobing Tu, Patrick Ray, Dion Dionysiou and Jingjie Wu received the CEAS Distinguished Researcher Award and Professors Greg Harris, Mingming Lu and Margaret Kupferle received the CEAS Master Educator Award. Congratulations to all!
Professor Greg Beaucage elected as ACS Fellow.
Dr. Greg Beaucage was elected an ACS Division of Polymeric Materials: Science & Engineering (PMSE) Fellow for 2021.  His election to this honor reflects the recognition by his peers of the many impactful contributions he has made to the field of polymer science and engineering, and, most specifically, "for development of the Unified Scattering Function, enabling the quantitative study of heterogeneous and hierarchical polymeric materials."  He will be inducted at the 2021 San Antonio Spring ACS National Meeting, during the PMSE/Poly Awards Reception. 
Teri Reed, National Science Foundation, Towards Civility: A Workshop to Evaluate and Inspire Collection and Analysis of Data on Harassing Behaviors in Engineering and Engineering Technology, $50,000.
Greg Harris

, Department of the Army Medical Research Acquisition Activity, Next-Generation Smart Scaffolds for Regenerative Peripheral Nerve Therapeutics, $115,000.

Dion Dionysiou

, Environmental Protection Agency, Removal and Treatment of PFAS Using Highly Innovative, Efficient and Cost-effective Technologies and Resource Recovery from Wastewater, $13,000.

Mingming Lu

, National Science Foundation, Evaluation of a Pilot Process to Convert Waste Oil and Grease from Waste Water Treatment Plants into Yellow Grease, Water and Solids for Reuse, $8000.

Vesco Shanov

, Department of the Army, Thermal Imaging of the Li-ion Battery during Cycling, $50,000.

Jingjie Wu

, Department of Energy, High-Efficiency Electrochemical Conversion of CO

2

to Ethylene, $450,000.
Professors Sorial and Kao to retire at the end of summer
Professors George Sorial and Yuen Koh Kao will both be retiring in August, 2021. Dr. Sorial held several positions of leadership throughout his tenure here, including the Program Chair of Environmental Engineering as well as the Department Head of Chemical and Environmental Engineering. His research interests were supported by numerous grants from the Environmental Protection Agency and included a range of environmental topics including micropollutant removal as well as fate and transport and the development of supportive analytical methods.  He designed the curriculum for the undergraduate program in Environmental Engineering and taught both graduate and undergraduate courses in the field of environmental chemistry.  Dr. Kao's research interests were in the areas of membrane separations, transport phenomena and process dynamics and optimization.  He served as mentor and teacher in the Chemical Engineering Program for more than four decades and has taught a range of courses to both undergraduate and graduate students, including Transport Phenomena, Computational Methods of Chemical Engineering, Thermodynamics, Principles of Heat Transfer, Principles of Mass Transfer, and Equilibrium Processes-Stage Operations. They will be greatly missed for their tremendous contributions and we wish them the best in their retirements!
Professor Carlos Co chosen as Professor of the Year
The University of Cincinnati Engineering & Applied Science Tribunal, founded in 1908, is one of the largest and most active student organizations on campus and serves as the student government entity for the college. Each year, they honor faculty for their hard work and dedication and the Professor of the Year Award is chosen by the students in the College.  This year's recipient was DCEE professor, Dr. Carlos Co.  Congratulations Dr. Co on becoming a 2020-2021 Professor of the Year!
Professor Ray receives University Research Council Faculty Scholars Research Award
Assistant Professor of Environmental Engineering, Dr. Patrick Ray, was recently chosen to receive the URC Faculty Scholars Research Award.  He was one of eight UC faculty chosen to receive $25,000 to support his reseasrch.  The URC Faculty Scholars Research Awards are UC's oldest and most prestigious internal funding program and are meant to recognize promising UC junior faculty who are proposing transformative ideas that will shape our future. Congratulations!
Professor Dionysios Dionysiou is interviewed in his role as Editor of JEE
Dr. Dion Dionysiou, a Professor in the Environmental Engineering Program, was recently interviewed in his role as Editor of the Journal of Environmental Engineering. He has been serving JEE since 2001, first as Associate Editor, then as Editor of Special Collections, and more recently as Editor. In the interview, Professor Dionysiou delineates his vision for the journal and discusses the areas that he feels most need to be addressed in the field of environmental engineering.  He further reviews what he sees as top priorities for research, including elimination/minimization of input and treatment of contaminants of emerging concern (pathogens including SARS-CoV-2, PFAS, microplastics, nanoplastics, pharmaceutical and personal care products, PPCPs, etc.) as well as issues with water scarcity and the need for development of technologies to treat non-traditional source waters at a lower cost such as seawater, brackish water and municipal wastewater.
Adjunct Professor in ChE takes Dolly A.B. Cohen Award
Professor Anne Vonderheide received the University's Dolly A.B. Cohen Award for excellence in teaching. Her primary appointment is in the Chemistry Department and she has mentored several ChE majors in her undergraduate research course there.  In her role as undergraduate director, she is also working closely with Dr. Stephen Thiel of ChE to establish a joint BS-MS degree between the two departments.  Students will receive a Bachelor's degree in Chemistry and take 3 ChE courses as part of their first four years, after which they will transfer to CEAS to complete their Master's degree in Chemical Engineering.  Professors Thiel and Vonderheide hope to have this degree path approved and in place for the 2021-22 academic year.
Undergraduate Environmental Engineering Major, Leah Dickerson, was chosen as Undergraduate Engineer of the Month during this academic year. Leah has done her co-op rotations at Pixelle Specialty Solutions in Chillicothe and Louisville Gas and Electric and Kentucky Utilities Energy and will be graduating this April.  Congratulations, Leah!!
Graduate student Yu Zhang is studying chemical engineering to earn her PhD under Professor Maobing Tu.  She was chosen as Graduate Engineer of the Month this academic year.  Yu previously received a MS in environmental engineering at UC and now studies in the field of energy sustainability under Dr. Tu. Specifically, her work focuses on producing biofuels, such as ethanol and fatty acids, through the microbial fermentation of wastewater sludges and wood biomass. 
Jacob Orkwis, a chemical engineering graduate student in the research group of Dr. Greg Harris, was awarded the Sigma Xi Grant in Aid of Research Award this spring. This highly prestigious award comes with a $2500 stipend that may be used for travel expenses to and from a research site, to present research results at a national science or engineering meeting, or for purchase of consumables research materials and supplies or non-standard laboratory equipment necessary to complete a specific research project.  Jacob's winning proposal was entitled, "Design and Fabrication of a Piezoelectric Biomaterial for Nerve Repair".
Jacob also received a 2020-2021 University Research Council Graduate Student Stipend for his proposal entitled, "Development of Novel, Piezoelectric Device for PNS Repair".  Tianyu Zhang, a graduate student in the Chemical Engineering program studying under Professor Jingjie Wu was also a winner of the summer stipend.  Tianyu's proposal was entitled, "Regulation of Nitrogen Dopants Configuration on Graphene Quantum Dots Electrocatalysts for Carbon Dioxide to Ethylene Conversion".
Congratulations on these outstanding accomplishments!
Chemical engineering major Jenna Averbeck and environmental engineering major Taylor Batz were both recognized for their achievements in cooperative education.  Jenna completed four outstanding co-ops with Marathon Petroleum and one with L'Oréal. Taylor completed her rotations with the Ohio Department of Transportation as well as within the area of environmental consulting.
Spring Senior Design Exhibition Held Online
Seniors from both Chemical Engineering and Environmental Engineering programs presented their senior design projects at the end of the spring semester. Each team prepared a poster, and a prerecorded presentation (20-25 minutes).  Judges reviewed the posters and presentations, then had WebEx meetings with the teams. There were many outstanding projects representing a great deal of effort on the part of the students. Groups were judged by both internal and external experts and the following awards were announced at the end of the semester:
Best Capstone: First Place ($250 to each student) Manufacture of Long-Chain Unsaturated Dimethyl Esters from Naturally-Sourced Materials 

Eric Brangers, Michael Henry, David Horten, William Kamphaus, Mark Rupert

Best Capstone Second Place

($175 to each student) 

Production of Ethanol and Hydrocarbon Commodity Chemicals from Biomass 

Kyle T. Brittingham, Hallie J. Grant, Bryan J. Keller, John M. Lehman, Megan E. Moyer, Sarah K. Sloan

Best Capstone Third Place  ($125 to each student) Synthesis of Glycerol Carbonate from Glycerol Produced from Biodiesel Manufacturing Faeze F. Abdulrahman, Daniel F. Abimosleh, Daniel B. Blodgett, Jacob K. Kasik, Zachary S. Lamb, Meghan C. Stapleton
Departmental Environmental Engineering Awards
Best Capstone First Place  ($250 to each student) 

Light Flow Solutions – Analyzing the Feasibility of Floating Solar Power Generation Sean Clapp, Leah Dickerson, Mary Beth Kappler, Chase Neville

Best Capstone Second Place  ($150 to each student) 

HydroSynergistic Solutions- Riverbank Filtration at Greater Cincinnati Water Works Amy Cristiano, Jared Crosby, Megan Ginn, Catherine Straus, Matthew Marotta
Best Capstone Third Place  ($100 to each student) Storm Delta Engineering Solutions – Stormwater Reuse at the University of Cincinnati Main Campus 

Taylor Batz, Grace Brethel, Graci Doll, Anthony Marazzi, Matthew Mueller
AIChE - Ohio Valley Section recognized the following projects at the CHE Design Exhibition
First Place: Manufacture of Long-Chain Unsaturated Dimethyl Esters from Naturally-Sourced Materials Eric Brangers, Michael Henry, David Horten, William Kamphaus, Mark Rupert
Second Place: Synthesis of Glycerol Carbonate from Glycerol Produced from Biodiesel Manufacturing Faeze F. Abdulrahman, Daniel F. Abimosleh, Daniel B. Blodgett, Jacob K. Kasik, Zachary S. Lamb, Meghan C. Stapleton
Third Place (3-way Tie): Production of Ethanol and Hydrocarbon Commodity Chemicals from Biomass Kyle T. Brittingham, Hallie J. Grant, Bryan J. Keller, John M. Lehman, Megan E. Moyer, Sarah K. Sloan Production of Oxygenate Products from Agro-Industrial Residues Jenna Averbeck, Ashley Sullivan, Tyler Noonchester, Craig Conkle, Branton Cummins Production of Aromatics from Methanol Abbey Keuper, Brian Chu, Brooke Smith, Matt Shepherd, Teagan Gosnell
2021 North Central American Institute of Chemical Engineers (AIChE) Regional Conference
The University of Cincinnati's Chem-E-Car team won fourth place at the 2021 North Central American Institute of Chemical Engineers (AIChE) Regional Conference held on Saturday, April 17th.  This placement secured a spot for the team to compete at the National AIChE Conference in Boston in Fall 2021.   The team achieved this success in the face of fierce competition from Purdue University, University of Illinois at Urbana-Champaign, University of Michigan, University of Notre Dame, among a total of 7 entrants.  The competition was held remotely in UC's Baldwin Hall and both Dr. Stephen Thiel (Safety Advisor) and Dr. Anastasios Angelopoulos (Faculty Mentor) were present. 
Chem-E-Car program consists of regional and national competitions sponsored by the Chemical Engineering professional society, the American Institute of Chemical Engineers (AIChE), to foster understanding of engineering principles during the design and construction of self-propelled vehicles of about shoe-box size.  The competition is intended to teach and foster safe and optimum design of the propulsion system that the students at UC choose at any given year.  Students must address all aspects of car operation and are assessed on the basis of formal safety and design reports, oral presentations, as well as poster presentations at regional and national competitions.  The UC team was founded by Professor Angelopoulos in 2007, who continues to serve as faculty mentor.  The team has been historically successful at competition and receives yearly funding from the University of Cincinnati's Funding Board (UFB).