Chemical and Environmental Engineering Newsletter
Bearcats Return to Campus!
Greetings!  I'm very excited to share with you some of the outstanding accomplishments of our faculty and students over the past months.  This fall, we saw a return of campus life and both faculty and students heartily welcomed the transition back to in-person learning. I have observed our faculty continue to excel in both research and teaching, serving as excellent role models for our students.  I am continually impressed by the leadership and innovation shown by our students, both at the undergraduate level and the graduate level and hope you will see this too as you read of their many accomplishments.  We very much look forward to continuing our positive momentum in the spring semester!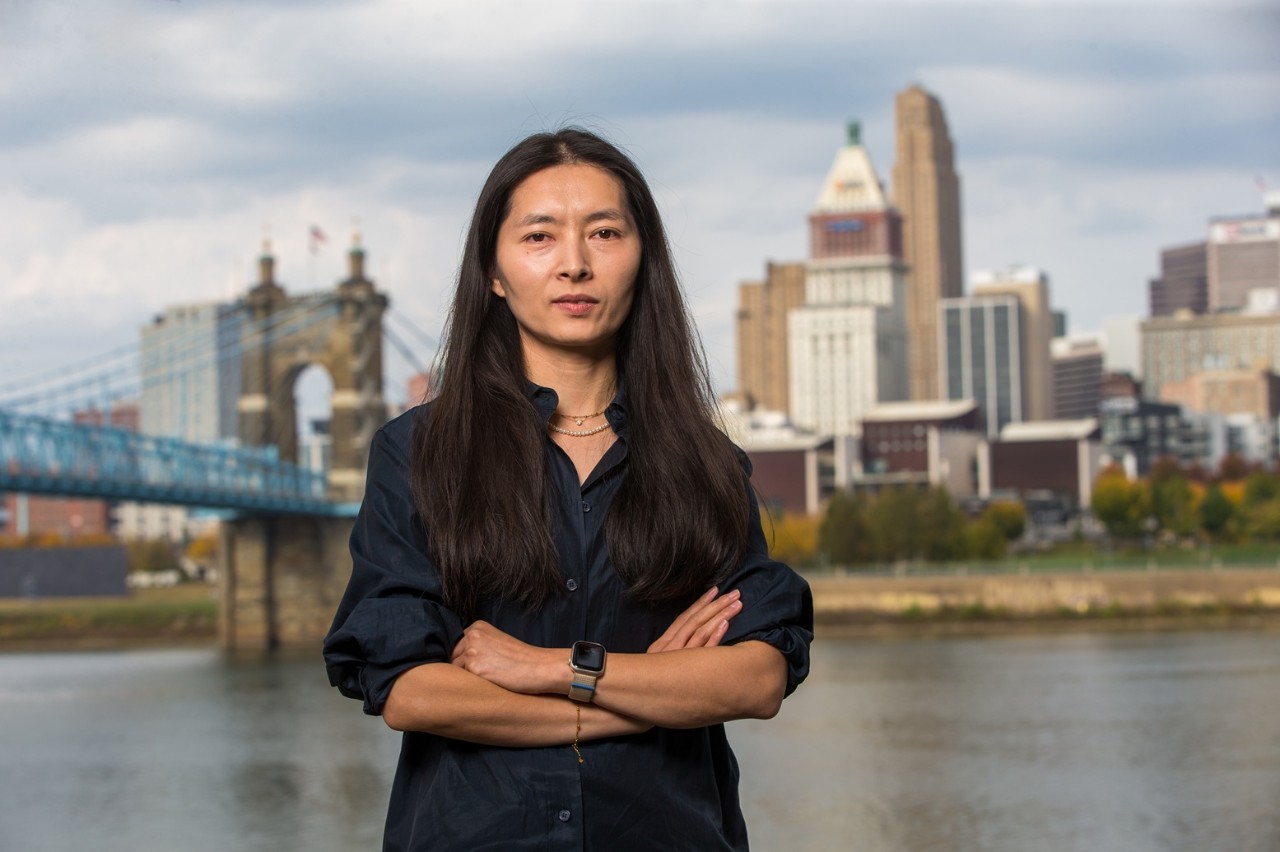 Professor and Program Chair of Environmental Engineering and Science, Dr. Margaret Kupferle, recently accepted the position of faculty mentor of the Society of Environmental Engineers (SEE)
This group recently hosted a Water Filtration Competition that incorporated water treatment concepts in a hands-on activity. The competition challenged teams of 4-5 students to construct a water filter using simple materials. Teams were given a budget in which they could purchase filter materials such as sand, coffee filters, or rocks at different costs. Each team was given a half liter of "dirty" water and were given 20 minutes to construct a filter and 10 minutes to filter their water. Scoring was based on the quality of the filtered water, the amount of filtered water obtained, and the amount of money spent. As water scarcity is becoming a more pressing issue, engineers must also be mindful of water conservation. This competition offered students the opportunity to find solutions to these concepts on a small scale while interacting with others in a fun and engaging activity.
Three Environmental Engineering Professors Receive Promotions
Effective in early August of 2021, both Associate Professors of Environmental Engineering, Dr. Lilit Yeghiazarian and Dr. Maobing Tu, were promoted to full professor. Dr. Soryong R. Chae was promoted from Assistant Professor to Associate Professor with tenure. CONGRATULATIONS!
Professors Soryong R. Chae and Dion Dionysiou receive funding to study produced water reclamation
The Bureau of Reclamation awarded $3.6 million to 10 projects for advanced water treatment research and development. Of this total, Professors Soryong R. Chae and Dion Dionysiou were awarded $250K for their proposed laboratory-scale project.  This Desalination and Water Purification Research Program funding seeks to improve technologies for water supply development from nontraditional waters, including seawater, brackish groundwater, and municipal wastewater. The UC research team envisions an innovative ceramic membrane and ultraviolet (UV) light-emitting diode (LED)/H2O2 system targeting over 99% removal of TDS and VOCs at low energy demand to treat produced water, water that is considered a waste stream associated with oil and gas activities.
Professor Joo-Youp Lee to lead project striving to capture CO2 from the atmosphere in an effort to mitigate climate change
Dr. Joo-Youp Lee will lead one of four projects sponsored by the DOE to investigate carbon capture.  The ultimate goal is to reduce the amount of carbon emissions and as a result, mitigate climate change.  The research group will investigate ways to make the extraction of carbon from the atmosphere both more economical and more energy efficient.  Their proposal entails the employment of a direct air capture system that utilizes a material to adsorb carbon dioxide gas from the atmosphere.  This process would then allow the use of the collected CO2 for other industrial purposes.
Soryong R. Chae and Vesselin Shanov, NSF, RAPID: Design, Fabrication, and Testing a Prototype of Heatable Face Mask for Preventing Respiratory Diseases Contracted through Airborne Pathogens, $40,000.
Soryong R. Chae

, Ohio Water Development Authority, Efficient removal of emerging per- and poly-fluoroalkyl contaminants using electrically heatable carbon nanotube hollow fiber membrane distillation, $28,000.

Soryong R. Chae and Dion Dionysiou

, OSU/ODHE, Management of harmful algal blooms by clay-biopolymer composite through flocculation of cyanobacterial cells and adsorption of phosphorus, $195,000.

Soryong R. Chae and Dion Dionysiou

, OSU/ODHE, Developing fast responding solutions for removing cyanobacteria, cyanotoxins, and nutrients with coagulation/flocculation/sedimentation by characterizing site-specific bloom-related environmental factors, $210,000.

Dion Dionysiou

, NSF, Collaborative Research: Treatment of Cyanotoxins by UV/Chlorine:   Removal While Developing Strategies to Minimize Disinfection Byproducts and Toxicity, $140,000.

Junhang Dong

, DOE, Test and Validate Distributed Coaxial Cable Sensors for in situ Condition Monitoring of Coal-Fired Boiler Tubes, $100,000.

Junhang Dong

, DOE, A Highly Sensitive Real-time Subsurface Sensor for CO2 Leakage Monitoring, $35,000.

Greg Harris

, UC CRA Pilot Grant, Developing Piezoelectric Biomaterials for Nerve Repair, $20,000.

Greg Harris

, NIH, Bioactive, piezoelectric materials for real time monitoring and stimulation of neural networks, $225,000.

 
Greg Harris, NSF, Reprogramming of the stromal microenvironment in melanoma progression and therapeutic escape, $20,000. 
Mingming Lu, NSF, Evaluation to Convert Waste Oil (Supp#1 w/1015372), $40,000. 

Mingming Lu, NSF, PFI-TT: Evaluation of a Pilot Process to Convert Waste Oil and Grease from Waste Water Treatment Plants into Yellow Grease, Water and Solids for Reuse, $60,000. 

Drew McAvoy, Hamilton Casework Services, Evaluation of Maumee Scientific Composter Technology, $140,000. 

Jonathon Nickels, DOE, Visualization of Solvent Disruption of Biomass and Biomembrane Structures in the Production of Advanced Biofuels and Bioproducts, $35,000 

Yoonjee Park, Ohio Lions Eye Research Foundation, Dose-Controlled Co-Delivery Implant For Chronic AMD Treatment, $455,000 

Yoonjee Park, National Eye Institute, Undergraduate Research for Doses-Controllable Drug Delivery Implants, $380,000 

Patrick Ray, Millennium Challenge Corporation, Partnership to Address Climate and Other Deep Uncertainties in Environmental Economic Analysis, $75,000 
Vesco Shanov, NSF, NSF IIP-2016484 - Supplement, $55,000. 
Vesco Shanov, NSF, Partnership for Innovation in Developing and Commercializing of a Sensors for Heavy Metals in Water, $30,000. 

David Wendell, Centers for Disease Control and Prevention, Dormitory wastewater monitoring of SARS-CoV-2 at Universities and Colleges in the State of Ohio – subaward, $160,000. 

David Wendell, Ohio Department of Health, Dormitory wastewater monitoring of SARS-CoV-2 at Universities and Colleges in the State of Ohio - subaward, $110,000. 

Jingjie Wu, NSF, Selective Ethylene Production from Carbon Dioxide Electroreduction via Gas Diffusion Electrode Engineering, $140,000.  

Jingjie Wu, DoE, Modular Reactors for Capture and Electrohydro-Conversion of CO2 in Various Industrial Processes to Value-Added Chemicals, $150,000.  
Professor Yoonjee Park's invents and patents her work in on-demand drug delivery for eye diseases
Professor Dionysiou receives Outstanding Publication Award
Professor Dion Dionysios and his former student George Anipsitakis were selected to receive the 2021 Association of Environmental Engineering and Science Professors Outstanding Publication Award for their work entitled "Radical generation by the interaction of transition metals with common oxidants." Their manuscript was published in Environmental Science & Technology (Vol. 38, Issue 13 (2004), pp. 3705-3712). This prestigious award recognizes landmark environmental engineering and science papers that have withstood the test of time and significantly influenced the practice of environmental engineering and science. The award was presented online during the AEESP Annual Awards Ceremony on July 14, 2021. 
Professor Vesselin Shanov investigates the fabrication of lightweight electrically conductive wires based on Carbon Nanotubes (CNT) and copper for NASA vehicles
Professor Vesselin Shanov and his group are fabricating and characterizing lightweight electrically conductive wires based on Carbon Nanotubes (CNT) and copper, an effort that was recently funded by NASA Glenn. Combining CNTs and Cu enables lowering the gravimetric density of the resulting wire without reducing its electrical conductivity. In general, copper does not wet carbon-based materials thus making it very difficult for this metal to be integrated into CNT wires. Shanov`s group is resolving this problem by a proprietary pre-treatment of the CNT wires produced in his lab. Such wires are needed for electric power distribution on the NASA vehicles used in their long-term missions, where any reduction of the weight significantly matters. 
The winners for the Environmental Engineering Best Capstone First Place in the spring senior capstone symposium -- Sean Clapp, Leah Dickerson, Mary Beth Kappler, and Chase Neville -- recently published their work in the August 2021 issue of The Magazine for Environmental Managers.  Their manuscript was entitled, "The Feasibility of Floating Solar Arrays at Northern Kentucky Water District".  Congratulations on this outstanding accomplishment!! 
Toluloe Odunola, a graduate student in Environmental Engineering working under Professor Patrick Ray won a $3,000 scholarship from the Ohio Section of the American Water Works Association.  Graduate students Asphota Wasti and Saiful Haque Rahat, also working under Professor Ray, won invitations to participate in the National Water Center Innovators Program Summer Institute.  Asphota worked in the area of hydroinformatics related to generation, visualization and dissemination of flood inundation information and Saiful worked in the area of novel water prediction applications of machine learning.
Jiong Gao, a recent Ph.D. grad who worked under the guidance of Professor Dion Dionysios, received the W. Wesley Eckenfelder Graduate Research Award from the Association of Environmental Engineering and Science Professors. The award was named in honor of W. Wesley Eckenfelder, a legend in Environmental Engineering. It is given annually to recognize an environmental engineering or environmental science graduate student whose research contributes to the knowledge pool of wastewater management and selection is based on original, innovative research of publishable quality. 
The Bearcat Enviro. Solutions Team (B.E.S.T.) won 1st place in the Environmental Challenge International (ECI) design competition during the Annual Conference of the Air and Waste Management Association (AWMA) this summer. The BEST team consisted of five students working under the guidance of faculty advisor and Environmental Engineering Professor Mingming Lu.  Rachel Tumbleson, a graduate student in ENVE advised by Dr. Siv Balachandran was the team leader and the other members were undergraduates Kevin Johnson (ChE), Esther Hughes (ENVE), Sophia Pedigo (ENVE) and Jackson ("Jagger") Vetter (ENVE).  This year's challenge focused on developing a resource plan for the regional Florida utility industry to support the path to reduce GHG emissions and achieve zero carbon by 2050.  The UC team proposed a combination of modular nuclear and solar energy paired with lithium-ion battery storage, biomass and offshore wind.  
Fourth year ChE undergrad Priya Modgil worked with two other students to establish a new student organization, the "Association for Women of Color in Engineering". The organization's mission is to support the diverse population of UC women in engineering and enhance the overall growth of its members through mentorship and provision of a safe, inclusive space to discuss the engineering experience through the lens of a woman of color. Their goals include the establishment of a network, greater retention and assurance of equitable opportunities for women of color.