Chemical and Environmental Engineering Newsletter
Greetings! I begin this address as we anticipate the start of our 2023- 2024 academic year. I look forward to sharing with you some of our outstanding accomplishments of the last year. Recently, our university was ranked 33rd among public universities nationwide and according to the National Science Foundation, UC is 51st in the nation in research spending. As an indication of our own Department's commitment to discovery and innovation; I am pleased to let you know that we reached $5 million in research expenditures at the end of fiscal year 2023, a more than 50% increase relative to 2019. In addition to this excellent research effort, our faculty and students continue to excel in innovative teaching and learning. We celebrated 147 undergraduate degrees in Spring 2023! We look forward to carrying our momentum into the 23-24 academic year.
ChEE welcomes three new faculty members 
We are very happy to announce the arrival of three new faculty members to our department.  Assistant Professor Xi-Zhi Niu joins our environmental faculty and his research focuses on environmental organic chemistry, environmental analytical chemistry, emerging organic contaminants, photochemistry, and environmentally benign semiconductor fabrication. Dr. Jonathan Pham joins our department as an associate professor and his research interests lie in the area of soft matter and polymers, interfacial science, mechanics, adhesion and wetting, tribology and gels/elastomers. Dr. Ben Yavitt joins the faculty as an assistant professor and his research lies in the area of rheology, polymer processing, advanced materials, X-ray scattering and polymer physics.  Welcome to ChEE!
Professor Aashish Priye receives NSF Career Award
Dr. Aashish Priye, an assistant professor in chemical engineering, received the Faculty Early Career Development Award from the National Science Foundation. This award is one of the most prestigious awards for up-and-coming researchers and his award was given for his proposal entitled, "Simultaneous sample preparation and thermal cycling for rapid and inexpensive molecular diagnostics at the point-of-care." Dr. Priye's research is in the area of microfluidics and involves understanding and harnessing the behavior of fluids on a small scale with the goal of improving medical diagnostic devices.
Read more:
What if PCR testing could be done at home? | University of Cincinnati (uc.edu)
Symposium held to honor the late Professor Stephen Clarson at ACS annual meeting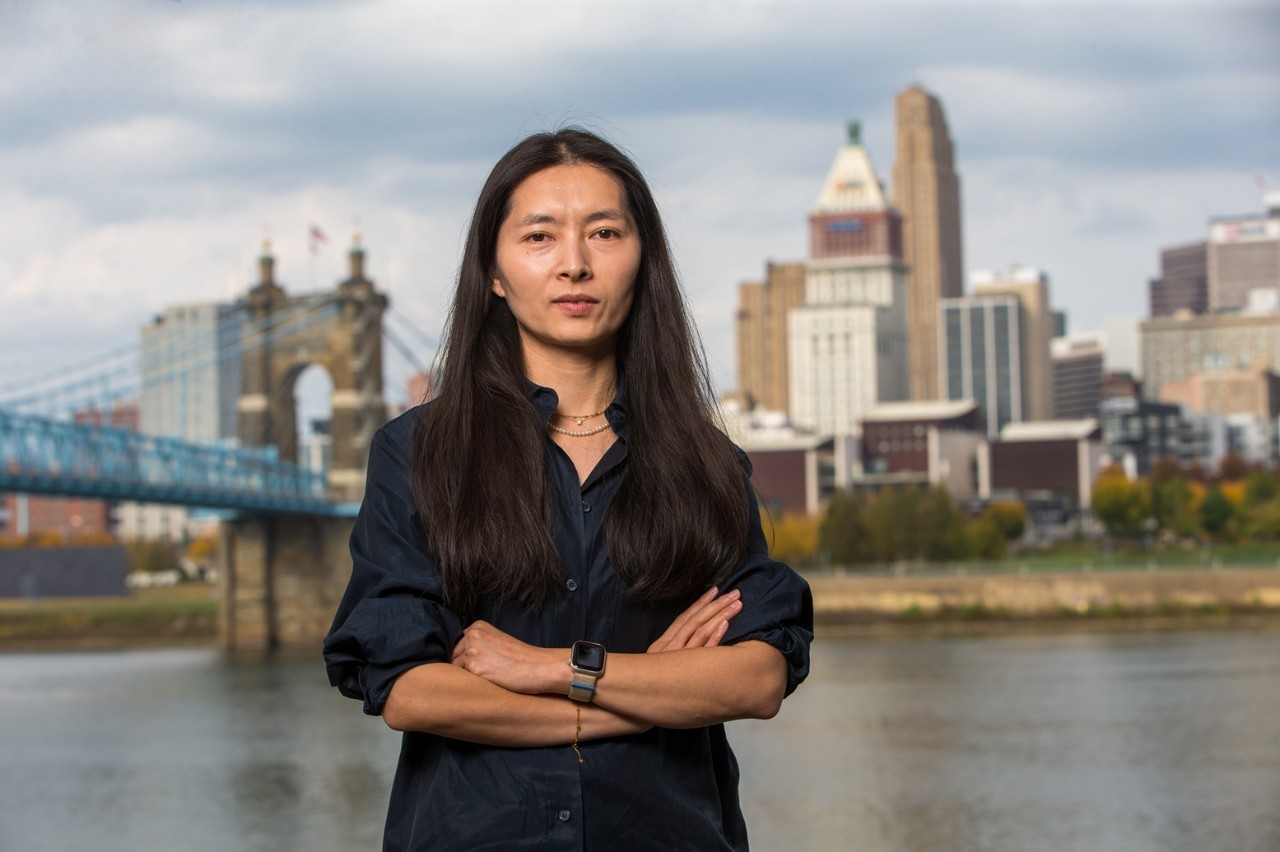 A symposium honoring the late Professor Stephen Clarson was held at the ACS annual meeting in Indianapolis this past April.  The symposium was organized by Professor Siddharth Patwardhan (ChE, University of Sheffield), Dr. Steve Pollack (Carbon Inc.) and Professor Greg Beaucage (ChE, University of Cincinnati).  Dr. Clarson was faculty in materials and chemical engineering for 32 years at UC and also served as Assistant Dean for Undergraduate Affairs. He was very active in the American Chemical Society, organizing a number of symposia and editing several books on silicone elastomers, silica and silanes. He was also editor of the journal Silicon. Our department and the University of Sheffield, ChE Department co-sponsored a dinner at the Fogo de Chão Brazilian Steakhouse in Indianapolis, attended by Professor Clarson's wife and daughters.
4 ChEE professors receive Michelman Award
The Michelman Green, Clean, and Sustainable Technology Research Innovation Program supports applied research & development (R&D) and use-inspired research with the potential to meaningfully contribute to improvements in environmental health, environmental stewardship, and sustainability by demonstrating new and marketable scientific and technical (S&T) innovations intended to address real-world problems in the Green-tech and Clean-tech fields. Grantees were selected based on the quality, novelty, and creativity of their proposed applied research topic which demonstrated a clear potential to make tangible contributions that improve societal outcomes.  Four faculty in our department were chosen as awardees.  Dr. Dionysios Dionysiou collaborated with Dr. Kelly Cohen of the Department of Aerospace Engineering & Engineering Mechanics and their winning proposal was entitled, "Uncrewed Aerial Systems for Water Collection and Quality Monitoring for Predictive AI Modeling of Harmful Algal Blooms Risk". A second award was made to a team of ChEE professors, Dr. Maobing Tu, Dr. Drew McAvoy and Dr. Jonathan Nickels, for their proposal entitled, "Green and sustainable production of hydrogen and volatile fatty acid from organic waste". Congratulations to them! 
Read more: https://research.uc.edu/news/2023/05/05/michelman-green-clean-and-sustainable-technology-research-innovation-program-grantees 
5 ChEE Faculty take awards in Spring Ceremony
Five ChEE faculty were recognized by the College of Engineering and Applied Science as they honored exceptional faculty and staff members with college awards this past spring.  Each of these recipients has demonstrated the legacy of excellence, scholarship and innovation that defines the college.  Professor Jonathan Nickels received the CEAS Research Award for Early Career Faculty. Professor Stephen Thiel received the 2023 Neil Wanamacher Teaching Award.  Professor Maobing Tu received the CEAS Distinguished Researcher Award and Professors Aashish Priye and Mingming Lu received the CEAS Master Educator Award. Congratulations to all! 
Dr. Dionysios Dionysiou receives 3 prestigious awards 
In May of this year, Professor Dionysiou was one of three professors globally chosen as an Honorary Member of the association of Chinese American Professors in Environmental Engineering and Science (CAPEES).  The recognition is based on international prominence and this year was the inaugural award for this category. The award was presented during the Association of Environmental Engineering and Science Professors (AEESP) 2023 Conference in a special CAPEES Workshop and Awards event.  
In June of this year, Professor Dionysiou also received the CIPOA (Congresso Iberoamericano de Processos Oxidativos Avançados) Senior Researcher Award in the category of Distinguished Career/Excellence in Implementation and Practice in the Fields of CIPOA.  The Iberoamerican research community includes the Americas, Spain and Portugal and meets biannually. Dr. Dionysiou will give the award plenary presentation at the next CIPOA conference in Florianopolis Brazil in 2024. 

In addition to these two international awards, Professor Dionysiou was named as a highly cited researcher for the fifth year in a row. Each year, Clarivate identifies the world's most influential researchers and this exclusive distinction is based on those who have been most frequently cited by their peers over the last decade.  Specifically, Dr. Dionysiou was recognized for his exceptional research influence, demonstrated by highly cited papers that rank in the top 1%.  Dr. Dionysiou has more than 600 papers (over 68,00 citations in other manuscripts) in his research area of drinking water quality, supply treatment and purification. This year, Clarivate recognized his outstanding contributions in three categories: engineering, environment/ecology and chemistry.  

Read more: UC environmental engineering professor named highly cited researcher by Clarivate | University of Cincinnati 
DAAP, CEAS and COM secure second round of funding to keep the firefighters safe and cool 
A team from the Colleges of DAAP, CEAS and Medicine successfully completed a $1.2 million Round 1 project funded by the Ohio Bureau of Workers' Compensation (OBWC). This summer of 2023, OBWC funded with a $1.5 million Round 2 of the same project. During this second phase, the team will commercialize the created cooled prototype of firefighters' jackets with a carbon nanotube sheet as an inset, as well as conduct multiple live burn testing of the gear. This advanced equipment will keep firefighters cool during their mission, thus preventing the risk of overheating and heart attack. The funded project is led by DAAP, and Profs. Vesselin Shanov and Mark Schulz from CEAS are directly involved in it. Dr. Shanov`s team, which includes postdoctoral fellow Dr. Qichen Fang and graduate students Vamsi Kondapalli, is in charge of miniaturization of the cooling system, making it more efficient and easily integrated into the firefighter`s coat, along with acquisition of infrared temperature imaging from the gear during cooling. A picture of the cooling device is shown (left) along with the preparation of the cooled coat for the live burn test and entry into the fire with the cooled garment (right).
News outlets turn to Professor Patrick Ray regarding the recent Ohio train derailment 
On Friday, Feb. 3, 2023, 38 Norfolk Southern freight train cars derailed in East Palestine, Ohio, igniting a large fire that damaged 12 other cars. Eleven of the train cars that derailed were carrying hazardous materials, including the toxic chemical vinyl chloride.  Officials were concerned about the potential of the spilled toxins to spread to the Ohio River water supply and many news agencies turned to environmental engineering professor Dr. Patrick Ray for insight.  Dr. Ray, whose research focuses on the Ohio, stated, "It's a big concern up near East Palestine, but the level of concern has been decreasing as it goes down the river.  There is a little stream [near East Palestine], it might have been quite intense in its concentration that it could have hurt animals and plants and things in this area, but by the time it entered the Ohio River, which is huge, it's diluted a lot," Ray said.  He also added that Cincinnati has two reservoirs right next to the river that crews could pull water from if needed. 
Read more: 
UC environmental engineer explains how officials track pollution in the Ohio River after a train derailment caused a chemical spill | University of Cincinnati 
Local 12: https://local12.com/news/local/local-professor-explains-concentration-of-contaminants-in-ohio-river-assistant-university-water-treatment-facility-elk-river-chemical-spill-train-precaution-billion-human-health-risks-measure-dilutes-disperses-environment-cincinnati-ohio
WLWT: https://www.wlwt.com/article/tracking-chemical-plume-from-east-palestine-spill-through-ohio-river-cincinnati-water/42901809
AP: https://apnews.com/article/fact-check-Ohio-contamination-map-411989877238
The ChEE External Advisory Board Met April 21, 2023 
Each year, our department hosts a one-day meeting with our External Advisory Board in which the two programs present accomplishments and future vision to a group of disciplinary experts.  This year, we invited the members to the Student Award Ceremony on Thursday, April 20th, and followed with a dinner at the Graduate Hotel. During the dinner, Dr. Taso Angelopoulos, the ChEE department head, gave introductions and a brief overview of the department.  The next day, the meeting commenced in full swing, with various faculty presenting updates on both the undergraduate and graduate programs, as well as updates on our COOP program and ABET.  Also included were specific highlights on new faculty members.  The board consists of experts from all areas of government, industry and academia and at the end of the day, they delivered assessment and recommendations on undergraduate, graduate, faculty, and strategic planning issues for each program.
In Memory of Professor Sun-Tak Hwang 
Professor Sun-Tak Hwang, a pioneer in the field of membrane science, passed away in March of 2022.  Professor Hwang joined the ChE faculty at the University of Cincinnati in 1966 and began serving as chair of the department in 1982. He left an extensive research legacy spanning a broad spectrum that included both gas and liquid separations, membrane formation and characterization, and the application of membranes to industrial processes. His work led to 87 papers, 38 of which were research papers, review articles, and guest editorials in the Journal of Membrane Science. Noteworthy is his paper entitled, "Hollow Fiber Membrane Contactors", coauthored with Dr. Alan Gabelman and published in 1999 in the Journal of Membrane Science.  This paper has been cited 1066 times. In 1983 he received a $2 million grant from BP Ohio to establish the Center of Excellence for Membrane Technology. In 2001 he and Professors William Krantz and Jerry Lin established a site of the NSF Industry/University Cooperative Research Center for Membrane Applied Science and Technology (MAST) at the University of Cincinnati.
Dr. Junhang Dong Appointed as University of Cincinnati's George Rieveschl Eminent Scholar Endowed Chair in Membrane Science and Technology  
Dr. Junhang Dong was appointed as the Rieveschl Eminent Scholar in Spring 2023 in recognition of his long-standing achievements and international stature in the areas of nanostructured inorganic membranes for gas and liquid separations, chemical sensing, catalytic reactions, and flow batteries for energy storage.  This endowed chair was established August 20th, 2002, by Dr. George J. Rieveschl, Jr. to promote research in the areas of membrane science and technology. Initial funds were provided by the Ohio Board of Regents in 1986 to establish such an endowment.  Dr. Dong's appointment is part of a department-wide initiative to stimulate collaborative research in the broad area of membranes. 
Dr. Vadim Guliants Appointed as University of Cincinnati's inaugural Chair of the George Rieveschl Advanced Membranes and Materials (AM2) Group  
Dr. Vadim Guliants was appointed as the chair of the newly constituted Advanced Membranes and Materials (AM2) Group in Spring 2023 in recognition of his long-standing achievements and international stature in the areas of nanostructured inorganic, metal-organic, and polymer membranes and catalysts for energy-related, chemical conversion, and separations applications.  The objective of AM2 is to foster collaborative research in areas of mutual interest among faculty at UC.  The group is modeled after the HARP group founded by Dr. George Rieveschl while at UC.  The following link contains some interesting information from the UC library archives about the HARP group.
Read more: https://drc.libraries.uc.edu/items/7c95315c-f257-4f9d-a1ca-3135c0a48e06 
Anastasios Angelopoulos, Safran Landing Systems Facilities Use Agreement, $39,000. 
Soryong R. Chae, Environmental Protection Agency, Risk Management and Ecological Exposure Research Support Services (RMEERS), $61,000. 

Simone Balachandran, Ohio Bureau of Workers Compensation, Enhance Performance and Applications of Exposure-Protection Integrated Communicator (EPIC), $147,000 

Junhang Dong, Department of Energy, Novel Membrane System for Lithium Recovery from Brines, $172,000. 
Dongmei Feng, NASA, Integration of in-situ and SWOT data to regionally improve SWOT data accessibility and accuracy, $120,000. 
Mingming Lu, Ohio Bureau of Workers Compensation, Enhance Performance and Applications of Exposure-Protection Integrated Communicator (EPIC), $147,000 
Jonathan Nickels, Department of Energy, Visualization of Solvent Disruption of Biomass and Biomembrane Structures in the Production of Advanced Biofuels and Bioproducts, $20,000. 
Jonathan Nickels, Department of Energy, Subcontract for Renewal of Visualization of Solvent Disruption of Biomass and Biomembrane Structures in the Production of Advanced Biofuels, $278,000. 
Yoonjee Park, National Institute on Deafness and Other Communication Disorders, Injectable, Tunable Therapeutic Implant to Reduce Vocal Fold Scar, $121,000 
Yoonjee Park, National Center for Advancing Translational Sciences, Co-Delivery Dose-Controllable Implants for Advanced Chronic Eye Disease Treatment, $80,000 
Jonathan Pham, American Chemical Society - National Chapter, Relating local capillary suspension morphology to deformation response, $47,000. 
Vesco Shanov, General Nano LLC dba Veelo Technologies, Product Analytical Service, $5,000. 
Maobing Tu, Department of Energy, Metabolic and process engineering of solventogenic clostridia for stable, continuous n-butanol production from lignocellulosic biomass hydrolysates, $348,000. 
David Wendell, Centers for Disease Control and Prevention, Campus Wastewater Monitoring, University of Cincinnati Campus, $178,000. 
Jingjie Wu, Department of Energy, Modular Reactors for Capture and Electrohydro-Conversion of CO2 in Various Industrial Processes to Value-Added Chemicals, $150,000 
Lilit Yeghiazarian, National Oceanic and Atmospheric Administration, an integrated framework to quantify and improve the climate change resiliency of combined sewer overflow systems in the Northeast Ohio Regional Sewer District, $80,000. 
Raphael Hicks, a 2023 UC graduate in chemical engineering, was awarded the Student Trailblazer Award at the 2023 Onyx and Ruby Gala.  This award recognizes current UC students who embody leadership qualities, are extremely involved in the campus community, inspire their fellow students, and blaze the trail for ongoing progress. In addition to a Bachelor's in Science in ChE, Raphael also was granted an MBA as part of the ACCEND program.  He has accepted a position with Procter & Gamble in their Supply Network Operations division.
Read more: Onyx & Ruby Gala will recognize excellence within UC's Black community | University of Cincinnati
Gaurav Atreya, a graduate student working under the guidance of Professor Patrick Ray in environmental engineering, has been awarded an ORISE fellowship. ORISE is a U.S. Department of Energy (DOE) institute managed by Oak Ridge Associated Universities (ORAU) through a contract between ORAU and DOE. The appointment falls under the Research Participation Program at the U.S. Department of Defense (DOD) and was awarded in recognition of his past achievements, academic and career objectives, and interest in the program sponsor's mission.  
Asphota Wasti, a graduate student in the lab of Dr. Patrick Ray, has been elected to the International Commission on Large Dams (ICOLD) Technical Committee on Climate Change. She is co-leading the writing of a chapter entitled "Basis of Potential Effects of Climate Change on Key Hydrological Processes That Could Result in an Evolution of Extreme Floods" in an upcoming ICOLD bulletin. ICOLD bulletins are major publications in this field that serve to set the standard of practice in the design and management of dams globally. 
Read more: https://www.icold-cigb.org/GB/icold/technical_committees.asp 
Veteran and ChE grad Art Fusaro celebrated his 102nd birthday this year.  Mr. Fusaro started at UC, studying chemical engineering, during the 1940's. His studies were interrupted when he was called to serve in our military in World War II.  He was first deployed to New Jersey to study wireless communications, and later was sent to Hawaii to train other personnel stationed there.  He was in Hawaii on August 14, 1945, when Japan surrendered, signifying the end of the war.  Afterward, he returned to UC to complete his degree in chemical engineering.  Happy 102nd, Mr. Fusaro and thank you for your service to our country! 
Read more: WCPO profiles UC graduate and WWII veteran on 102nd birthday | University of Cincinnati 
Salar Balou, a graduate student working under the guidance of Professor Aashish Priye, received the URC Graduate Student Stipend and Research Award for 2023.  Salar is working on his PhD in chemical engineering on biomass-derived carbon dots for photothermal polymerase chain reaction. His research aims to develop a light-based thermal cycler for PCR devices that reduces energy consumption and time for heat transfer, expanding the application of PCR machines. The successful completion of the project would accelerate the detection of viral infectious diseases, potentially saving millions of lives.
Read more: Congratulations URC Graduate Student Stipend and Research Cost Program for Faculty-Student Collaboration Awardees! 
UC graduate Dr. Orthodoxia (Soula) Zervaki, who studied under Dr. Dionysios Dionysiou, won First Place for the Air & Waste Management Association (AWMA) Dissertation Award. Dr. Zervaki is currently continuing as a postdoctoral scholar at the National Institute of Occupational Safety & Health (NIOSH) where she performed most of her experimental work on the development of novel devices to measure aerosol particles. The title of her dissertation was "Development of Sample Collection and Concentration Techniques for Aerosol Measurement using Optical Spectroscopy and Microscopy". 
Dillon Patel, a chemical engineering major, has been named a University Innovation Fellow (UIF). Patel was one of 4 UC students of a total of 242 selected for this program, run by Stanford University's Hasso Plattner Institute of Design.  As part of the program, they will serve as advocates for institutional change. The fellowship also provides opportunities for students to create student innovation spaces, start entrepreneurship organizations, facilitate experiential workshops and work with faculty and administrators to develop new courses. 
Read more:  UC names new Innovation Fellows
Beth Wilson and Temple Corbett, both chemical engineering majors, traveled to Ghana as part of UC's Global Technical Workforce course.  The group was hosted by the Kwame Nkrumah University of Science and Technology (KNUST), which has one of Ghana's leading engineering programs. The Ghana group's industry visits ranged from a multinational corporation to a manufacturing startup. Additionally, in Accra, they visited Air Liquide, which supplies industrial, medical and domestic as well as Zeal Environmental in Takoradi to observe waste management operations. 
Read more: Students visit Ghana and learn how engineering crosses cultures
The second annual CEAS EXPO was held on Thursday, April 6, 2023, at the Duke Energy Convention Center. Over 220 capstone groups from CEAS showcased the projects they had been working on over the past year. ChE Team 5046-2321 received third place at the EXPO as well as first place by both the external judges from the Ohio Valley Section of Chemical Engineers and by the capstone teaching team.  It was a student-proposed project entitled, "Corn Stover Biomass and Zymomonas mobilis: An Environmentally Conscious Alternative to the Production of Ethanol Biofuel".  The student group included graduating ChE seniors Shannon Batliner, Hannah Hitchings, Taylor Hudson, Rachel Muny, and Jenna Schniegenberg.  In their project, a scalable, efficient process to produce fuel-grade bioethanol from corn stover, a lignocellulosic biomass, was designed. The design of this process included pretreatment, detoxification, neutralization, and hydrolysis prior to fermentation.  Fermentation was to be carried out using the Zymomonas mobilis bacteria strain to convert sugars to ethanol. The ethanol was to be recovered through several continuous separation steps, using a beer column and two absorption columns. The economic analysis showed this process to be profitable, with $21.9 MM of annual raw material costs and $53.44 MM in annual revenue. The total capital investment for the process was $19.22 MM.  The projected return on investment was therefore about 40% with a payback period of 1.5 years based on the current ethanol price of $585/MT. Additional process development was recommended to optimize the process, thereby allowing it to run more efficiently, including further investigation to optimize the energy efficiency to save utility costs and understand more completely the growth of Z. mobilis.  The results of this design demonstrate that production of ethanol from corn stover can be commercially attractive.
A group of environmental engineers took Judges' Favorite at the CEAS EXPO as well as first place for their Environmental Engineering Capstone Project. Their team, Forefront Consulting, was composed of seniors Isabella Altier, Nabil Djafi, Rachel Hardtke and Josh McLelland.  Their work was entitled, "PFAS Removal Technology for the GCWW Charles M. Bolton Plant (CMBP)" and was sponsored by the Greater Cincinnati Water Works (GCWW).  Their project specifically entailed a literature review of possible treatment technologies for PFAS removal including granular activated carbon (GAC), anion exchange, reverse osmosis, and advanced oxidation. The four technologies were analyzed based on seven alternative analysis criteria including effectiveness, site feasibility, impact on the current treatment process, impact on necessary plant additions to meet the EPA's Lead and Copper Rule Revisions, waste stream produced, overall cost, and industry acceptance. From the alternative analysis, GAC was determined to be the best technology for CMBP. Once the technology was determined, the team designed a new separate GAC facility to remove PFOA and PFOS compounds to below 2 ppt. The facility included five GAC contactors, four operational and one for storage, and a backwash system. The new process at CMBP will intercept flow at the sand filter effluent and the water will be pumped to the new GAC building. Pumps were designed to meet the maximum flow capacity. After GAC treatment, the water would flow by gravity to the clearwell where chlorine and fluoride are dosed before distribution. The backwash process of the GAC filters would occur approximately every 10 days, with the backwash water going to the onsite sludge lagoon. Once the carbon in the GAC contactors becomes spent, it will be transported to the Richard Miller Treatment Plant (RMTP) on the Ohio River for reactivated with their incinerator. The total cost for this new design was estimated to be $25.7 million, which includes process materials, reactivation, earthwork, and labor and subcontracts. 
Read more: CEAS Expo showcases engineering capstone projects | University of Cincinnati (uc.edu) 
Graduate student Garima Mandavya, studying under Professor Patrick Ray, was offered a position in the inaugural IRiS Graduate Fellows Program for the 2023-2024 academic year. IRiS is an interdisciplinary research institute focused on novel routes to innovation in sensing research and sensor technology development through purposeful integration of STEM and non-STEM perspectives, including basic and applied research, medicine, engineering, the humanities, social sciences, and the fine and performing arts. This fellowship was awarded in recognition of her commitment to interdisciplinary sensing-related research and interest in cutting edge teamwork and training in the sensing life cycle. Garima will receive a fellowship award of $3,500 for the year and an additional $2,000 per quarter for research purposes related to the grand challenge on which she will be working.  In addition, she and Tolulope Odunola, also working in the group of Dr. Ray, received a $3000 scholarship from the Ohio Section of the American Water Works Association for the 2023-2024 school year. These scholarships will provide payment for tuition associated with their advanced degrees. 
Chemical Engineering Undergraduate Capstone Design Awards
The Department of Chemical and Environmental Engineering held their annual Student Award Ceremony on Thursday, April 20th.  Awards and scholarship recipients are listed below.  CONGRATULATIONS to our students on these outstanding accomplishments!
First Place: 
Project 5046-2321: "Corn Stover Biomass and Zymomonas mobilis: An Environmentally Conscious Alternative to the Production of Ethanol Biofuel" 
Shannon Batliner, Hannah Hitchings, Taylor Hudson, Rachel Muny, Jenna Schniegenberg 
Second Place: 
Project 5046-2320: "Continuous Fermentation and Distillation of Rum Using Immobilized Yeast" 
Bradley Skaja, Patrick Bissmeyer, Owen Assink, Nathan Hanzlick, Andrew Dwyer 
Third Place: 
Project 5046-2316: "Investigation of Non-Alcoholic Beer Production Using Saccharomycodes Ludwigii or the Cold-Contact Process" 
Payton Bonifas, Herbie Meyer, Emily Moore, Rachel Mowad, Lahari Pallerla 
Graduate Students Awards  
This award is awarded to a deserving graduate CHE student at the doctoral level who excelled in his/her performance during his/her tenure in the department, prior to graduation. 
PhD:  Zhengyuan Li  (advisor: Jingjie Wu) 
MS:  Natalie Wehrle (advisor:  Yoonjee Park) 
Chemical Engineering Gift Fund Awards 
R.S. Tour Award for Outstanding Chemical Engineering Senior  
Matt Demangeont 
Bunin Scholarship  
Joseph Collins 
Brems Scholarship for Best Academic Achievement  
Jaclyn Bashore 
Audrey Davis 
Catherine Gottsacker 
Elizabeth Soper 
Lubrizol Foundation Scholarship  
Vincent Copeland 
Mary Alexis Katubig 
Abbey Kramer 
Melanie Zammarelli 
Environmental Engineering and Science Undergraduate Capstone Design Awards
First Place: 
Team: Forefront Consulting 
Title:  PFAS Removal Technology for the GCWW Charles M. Bolton Plant 
Team Members: Isabella Altier, Nabil Djafi, Rachel Hardtke, Josh McLelland 
Sponsor: Greater Cincinnati Water Works (GCWW) 
Second Place:
Team: Fritz Consulting 
Title:  Stormwater Reuse at the Cincinnati Zoo and Botanical Garden 
Team Members:  Sydney Cleverly, Jase Headings, Connor O'Keefe, Joel Steimle, Kate Shaughnessy
Sponsor: Cincinnati Zoo and Botanical Garden
Third Place:
Team: Edge Energy Consultants 
Title: Hydrogen Co-firing at the UC Central Utility Plant 
Team Members: Haitham Alsubhi, Emma Eickert, Coulton Korosec, Bridgette Stegman 
Sponsor: University of Cincinnati Utilities (UCU) 
Graduate Student Awards  
Pat Scarpino Award PhD Dissertation Award  
Orthodoxia Zervaki (Advisor: Dion Dionysiou) 
Pat Scarpino Award MS Thesis Award  
Montine Swikert (Advisor: Margaret Kupferle) 
University of Cincinnati doctoral student Vamsi Krishna Reddy Kondapalli was named Graduate Student Engineer of the Month by UC's College of Engineering and Applied Science.  Vamsi works under the guidance of Dr. Vesselin Shanov and studies nanomaterials, specifically graphene. His research focus at UC is developing new techniques to enhance and modify the properties of 3D graphene for various advanced applications using the advancements in science and technology, At present, he is trying to overcome a few of these challenges for several graphene applications such as electrochemical energy storage, hydrogen storage, thermoelectric use, carbon dioxide conversion and others. He also has served as principal investigator on two UC research projects with the National Institute for Occupational Safety and Health as well as participated in two invention disclosures, and one patent application along with his advisor as a co-inventor, co-authored eight publications and was a summer intern at Micron Technology Inc.