June 2020 Chemical and Environmental Engineering Newsletter
UC Successfully Transitions to Online During Remainder of Spring Semester
On March 10, 2020, UC leaders announced that the institution would suspend face-to-face instruction on March 14th.  This is an historic effort to move our entire academic effort to remote learning in response to COVID-19 and I am proud of the work our faculty have put into this transition.  They responded with excellent creativity and kept student success at the forefront.  Spring semester is generally students' time to present their capstones and showcase their work.  This year, our poster symposia were successfully held in an online forum in which students were able to make and post a video presentation outlining their projects and we will report on some of the outstanding work of our students in this newsletter.  At the end of the semester, our 2020 graduating class in Chemical Engineering Program exceeded 100 students for the second year in a row.  Both Chemical and Environmental Engineering Programs have experienced continued growth in enrollment for a number of years and I wish all of our graduating seniors a happy and prosperous future.
Five DCEE Faculty Take University and College Awards in Spring
Dr. Vadim Guliants was honored by The Office of  Research as one of the university's top externally sponsored UC researchers for this past fiscal year.  Four other DCEE faculty were recognized by the College of Engineering and Applied Science as they honor exceptional faculty and staff members with college awards each year.  Each of these recipients has demonstrated the legacy of excellence, scholarship and innovation that defines the college. Professors Vadim Guliants, George Sorial and Lilit Yeghiazarian received the CEAS Distinguished Researcher Award and Dr. Patrick Ray received the CEAS Master Educator Award. 
The Web of Science Group chose Professor of Environmental Engineering and Science, Dr. Dionysios Dionysiou, as one of their Highly Cited Researchers in 2019.
DCEE held first Departmental Workshop on Collaborative Research, Saturday March 7
40 faculty from both the Department of Chemical and Environmental Engineering and the Department of Chemistry were in attendance along with Dean Weidner.  The goals set forth were to achieve awareness among participants of individual areas of research expertise in the respective Departments and secondly, to get to know one another as colleagues among the two departments.  Each faculty gave brief 3-4 minute presentations (in any format) describing their research interests and acknowledging sources of funding.  The event was extremely successful and there were many discussions regarding potential areas of collaboration which may allow pursuit of new research directions and sources of funding.   
Environmental Engineering Alumnus Dr. Carol Clinton is honored with the Herman Schneider Alumni Award.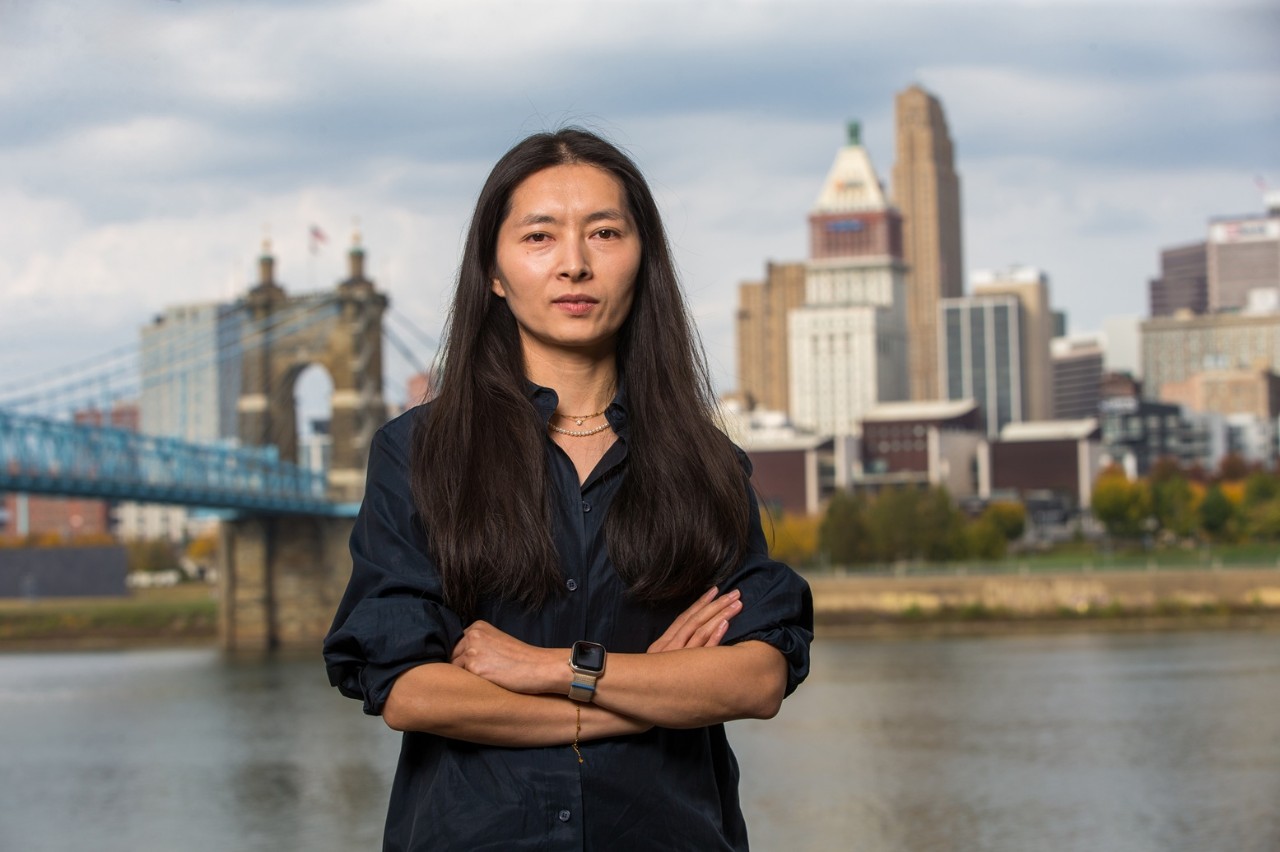 Dr. Clinton serves as president of E3 Strategic Partners, a certified woman-owned company that helps companies around the world navigate regulatory compliance in chemical product safety, among other consulting services. The Herman Schneider Award honors graduates whose personal stature have reflected exceptional acclaim on the college's academic departments and the disciplines they represent.
In May of 2020, NSF awarded a RAPID grant to Dr. Vesselin Shanov-PI and Dr. Soryong Chae-Co-PI to create a prototype and test a face mask with thermal inactivation of pathogens, including the virus causing COVID-19
Currently, there is a significant shortage of Personal Protective Equipment, particularly face masks, due to the COVID-19 pandemic in the United States. The statistic shows that one COVID-19 patient consumes on average 17 face masks per day worn by the medical personnel. The post COVID-19 forecast describes that the face masks will be required long after the infection and death toll curve is flattened and declines. This project is targeting the design and fabrication of a prototype of heatable and reusable face mask that can kill viruses caught on the mask surfaces thus preventing their penetration within the human respiratory system. This is achieved through resistive heating above the virus lethal temperature. A thin and breathable heater film made of  engineered carbon nanomaterials will be used, which is porous and can be retrofitted or placed on the outer surface of any commercial face mask. This heatable filter is powered by a portable  battery or a cell phone and is thermally insulated from facial skin. The mask can be energized when worn by the user or in storage to disinfect it. PhD student Yanbo Fang (MME) and undergraduate student Hung Nguyen (ChE) have been very instrumental and innovative in making the first version of the heatable mask prototype.
Dr. Patrick Ray Continues to Extend His Group's Water Research to the Globe
This has been an exciting semester for the Water Systems Analysis Research Group led by Assistant Professor of Environmental Engineering, Dr. Patrick Ray.  They won a contract with the Millennium Challenge Corporation to develop something called "Robust Cost-Benefit-Analysis". The Millennium Challenge Corporation (and most any agency that builds or manages large water infrastructure) uses benefit cost analysis to choose a project among a portfolio of investment options. Unfortunately, benefit cost analysis tends to be inadequately responsive to uncertainties in the future such as climate change. Ray and his group will be developing a new approach that uses models (e.g., climate, hydrologic) to run many simulations of possible futures, and uses advanced statistical approaches (e.g., data mining, machine learning) to estimate likelihoods and inform risks and opportunities. Case studies are Tunisia and Niger.  In a second avenue, Dr. Ray was contracted by the US Army Corps' Engineer Research and Development Center (ERDC) to improve their capabilities in water quality risk assessment. That means developing new models and tailoring existing models to evolving water contamination problems. They will likely test their models on the Ohio River, and develop multi-objective optimization approaches to better operate Ohio River infrastructure.  And finally, they are just starting to work with P&G's Global Water Stewardship Lead on water issues in Mexico City of interest to P&G, as well as evaluations of the suitability of two potential basins for P&G involvement – one in Turkey and one in Spain.
In Memory of Henry T. Brown
In February of this year, our department received news that one of our distinguished Herschede Society members, Henry T. Brown, passed away at the age of 87. Henry graduated from Walnut Hills High School, moving on to become the first African American to earn a B.S. degree in chemical engineering in 1955 from the UC College of Engineering. Brown then attended the Massachusetts Institute of Technology as a National Science Foundation Scholar, and there he received his M.S. degree in chemical engineering in 1956. He moved on to industry, eventually retiring from Polaroid, and had an exceptional record as civil rights activist, community leader and family man. Henry received the Herman Schneider Distinguished Alumni Award from the college in 1983.  He joined the Foundation Board in 1992 and was inducted into the Herschede Society in 2015. He received an honorary doctorate of science degree from UC in 2001.
The family is asking that in lieu of flowers, donations may be made to either of the two scholarship funds Henry was instrumental in creating. The first of these was established through the Foundation and benefits underrepresented students in the College of Engineering and Applied Science.
Environmental engineering associate professor Dr. Lilit Yeghiazarian recently received a $1 million grant from the National Science Foundation
Environmental engineering associate professor Dr. Lilit Yeghiazarian recently received a $1 million grant from the National Science Foundation. The grant will fund the development of an Urban Flood Open Knowledge Network which will anticipate, plan for, avoid and respond to flooding. Her team is made up of specialists in many different disciplines, including the fields of water-related engineering, electrical engineering, computer science, systems analysis, controls, machine learning, epidemiology, socioeconomics and transportation.  Their collective task will be to connect all the data produced by urban systems like power grids, stormwater and transportation networks, and drinking water infrastructure to help in flood response and minimization of damage.
Professor Ryan Chae received an Ohio Water Resources Center USGS Award
Professor Ryan Chae received an Ohio Water Resources Center USGS Award. His proposal entailed investigating the removal of PFAS from drinking water.  This is a critically important area of research as per- and polyfluorinated substances (PFAS) are ubiquitous.  They are used to make fluoropolymer coatings and products that resist heat, oil, stains, grease, and water, however, they do not break down in the environment, can move through soils and contaminate drinking water sources, and bioaccumulate in fish and wildlife.
Congratulations Dr. Chae!!
DCEE develops BS-MS Program with College of Pharmacy
Students pursuing their bachelor's degree in chemical engineering now have another track open to them.  This spring, DCEE, in partnership with the College of Pharmacy launched a new degree path in the field of cosmetic science. Students following this path will obtain their bachelor's in chemical engineering while simultaneously taking some graduate level courses in the College of Pharmacy.  After graduation, they will spend one more year to obtain their MS in cosmetic science, a multidisciplinary degree that requires expertise in a wide range of disciplines such as chemistry, chemical engineering, biological sciences, human studies, formulation science, toxicology and human and environmental safety,
ChE Hosts Process Boot Camp this Spring
Lubrizol Sponsored a CCPS Process Safety Boot Camp at UC in February of this year and it was a huge success with many ChE majors attending.  The fast-paced two day course was organized by Dr. Stephen Thiel and guest instructors included Frank Renshaw, a certified safety professional and certified industrial hygienist currently serving as an EHS consultant after 35 years with Dow Advanced Materials (formerly the Rohm and Haas Company) and John Herber, a safety professional with a 33-year career at 3M Company that included positions in process and project engineering, production operations and corporate safety.  In addition, Lubrizol participants included Jonathan Gordon, Griff Allen, and Alex Fogle along with CEAS Dean John Weidner.
Two of our majors were recognized for achievement in their co-ops.  Madison Alvarez will graduate this spring with her degree in Environmental Engineering.  She was recognized taking initiative, challenging the status quo and creating lasting contributions at Kroger and GE Aviation.  Patrick Beers is a student in chemical engineering and he was recognized for completing five outstanding co-op terms at Patheon Pharmaceuticals Inc., part of Thermo Fisher Scientific.
Cameron Beck, graduating senior in the Chemical Engineering program was recognized by the Bearcat Promise Career Studio for his work as a peer career coach.  These coaches help fellow students in the Bearcat Promise Career Studio with job and co-op search questions, job applications, resumes, CVs, cover letters, references, interviews, and more
In response to the COVID-19 nationwide shutdown, Teja Bollimunta, a chemical engineering student at the University of Cincinnati, developed a free online tutoring platform called Brainwave. Students  from across the county were able to sign up for help in a host of subjects.  It was the hope of the developers that their help would alleviate some of the burden placed on grade school and high school teachers as they worked fervently to convert their lesson plans to an online format.  The outstanding success of this effort was reported by Channel19.
Graduate Student Government Award
Yoontaek Oh, a PhD student working with Dr. Ryan Chae in Environmental Engineering, was recently awarded the Graduate Student Government (GSG) Research Fellowship which monetarily ($1,200) supports my research.  The award monies may be used to fund research related expenses including, but not limited to, research related travel, workshops, conferences, field trips, performances, exhibitions, and/or lab equipment.
Yuan Zhang, a chemical engineering graduate student in the research group of Dr. Yoonjee Park, was recently awarded the Sigma Xi Grant in Aid of Research Award.  This is highly prestigious award comes with a $2500 stipend that may be used for travel expenses to and from a research site, to present research results at a national science or engineering meeting, or for purchase of consumables research materials and supplies or non-standard laboratory equipment necessary to complete a specific research project.  Yuan's winning proposal was entitled, "Biodegradable Implants for Subcutaneous On-demand Dose-controlled Drug Delivery".
Graduate Engineer of the Month
Wael Abdelraheem, a Ph.D. student in environmental engineering, earned the Graduate Engineer of the Month award for September 2019.  Wael researches water quality under Dr. Dionysios Dionysiou and specifically, he works in advanced oxidation/reduction processes to eliminate contaminants – such as pharmaceuticals, ingredients in personal care products, pesticides, and plasticizers – in water. He has also developed a new iron-based catalyst that breaks down the extremely stable per- and polyfluoroalkyl substances (PFAS).
Spring Senior Design Exhibition Held Online
Seniors from both Chemical Engineering and Environmental Engineering and Science programs presented their senior design projects at the end of the spring semester.  There were many outstanding projects representing a great deal of effort on the part of the students.  Groups were judged by both internal and external experts and the following awards were announced at the end of the semester  
Departmental Chemical Engineering Awards
Best Capstone: First Place. "Byproduct Formaldehyde Processing into Novolac Resin" Cory Chisholm, Linh Do, William Hobart, Alex Holton, Madison Summers
Best Capstone: Second Place "Synthesizing and Purifying Dimethylacetamide from Dimethylamine​" Tyler Cowans, Jeremy Daum,​Victoria Detcher, Leah Pickner​
Best Capstone: Third Place (Tie) "Spent Coffee Grounds Recyclery to Marketable BioChar and Coffee Oil" Lillian Ashworth, Cassie Packis, Zach Spoelstra, Matthew Stockman, Sean Weddell
Best Capstone: Third Place (Tie) "Acetic Acid Production from Pyrolyzed Medical Waste" Cameron Beck, Dominick Forlenza, Grant Gallagher, Anya Jolicoeur, Dan Matthews
Departmental Environmental Engineering and Science Awards
Best Capstone First Place Title:  Impacts of Largescale Electric Vehicle Deployment on Cincinnati Ambient Air Quality Team: Urban Charge, Team Members: Kristen Belisario, Chris Stone, Rachel Tumbleson Sponsor: Duke Energy/Hamilton County
Best Capstone Second Place Title:  Improving Morocco's Municipal Solid Waste Management Facilities Team: Solid Solutions, Team Members:  Madi Alverez, Shae Caruso, Sincerrai GentrySponsor: Resilient Communities Best Capstone Third Place (Tie) Title:  Literary Analysis of In-Home Water Pollutant Removal Technologies Team:  H2

Home Water Solutions, Team Members:  Madison Duke, Nate Jung, Julie McCormick 

Sponsor: Water Prosper Inc.
Best Capstone Third Place (Tie) Title:  Stormwater Reuse at the Cincinnati Zoo and Botanical Garden Team:  Umbrella Water Solutions, Team Members:  Chris Bowers, Michale Bump, Cara Hall, Taylor Webster Sponsor: Cincinnati Zoo and Botanical Garden
AIChE - Ohio Valley Section recognized the following projects at the CHE Design Exhibition
First Place "Synthesizing and Purifying Dimethylacetamide from Dimethylamine​" Tyler Cowans, Jeremy Daum,​Victoria Detcher, Leah Pickner
Second Place "Spent Coffee Grounds Recyclery to Marketable BioChar and Coffee Oil" Lillian Ashworth, Cassie Packis, Zach Spoelstra, Matthew Stockman, Sean Weddell
Third Place (Tie) "Byproduct Formaldehyde Processing into Novolac Resin" Cory Chisholm, Linh Do, William Hobart, Alex Holton, Madison Summers 
Third Place (Tie) "Acetic Acid Production from Pyrolyzed Medical Waste" Cameron Beck, Dominick Forlenza, Grant Gallagher, Anya Jolicoeur, Dan Matthews