Micro and Nano Manufacturing Laboratory
Students of the Micro and Nano Manufacturing Lab research methods and materials that can be used to create novel, efficient and sustainable micro and nano machining processes. We use modeling, simulation and experimental procedures to optimize the processes of electrodischarge, electrochemical, ultrasonic and abrasive machining of metals, ceramics and composites at very small scales to be later applied to the emerging developments in product miniaturization and a variety of other applications.
Our mission is to innovate, develop and apply cutting edge multi-functional, multi-scale, multi-material processing technologies for reliable and affordable manufacturing solutions across size domains, and educate students on the state-of-the-art in manufacturing science.
602D Rhodes Hall and 483 Engineering Research Center
University of Cincinnati
Cincinnati, OH 45221
483 ERC: (513) 556-4623
685 ERC: (513) 556-2773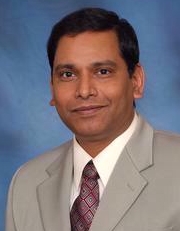 Murali Sundaram
Professor, CEAS - Mechanical Eng
631 Rhodes Hall
Dr. Murali Sundaram is a Professor in the Department of Mechanical and Materials Engineering at the College of Engineering, University of Cincinnati. He has over 25 years of professional experience that includes ten years of industrial experience in precision manufacturing and three years of postdoctoral research experience in micro and nanomanufacturing. Dr. Sundaram is a recipient of a Faculty Early Career Development (CAREER) Award from the National Science Foundation. His research interests include Additive Manufacturing, Nano-Manufacturing, Nontraditional Machining, Micromachining, Hybrid Machining, CAD/CAM, Metrology and Process Simulation. Dr. Sundaram is advising/ has co-advised over 25 graduate students (including 6 Ph.D. students) and several undergraduate students. He has authored five book chapters and over 100 refereed publications. Dr. Sundaram serves as Associate Editor of SME's Journal of Manufacturing Processes and is an International Editorial Review Board member of the International Journal of Manufacturing, Materials and Mechanical Engineering. Dr. Sundaram is a member of ASME and SME.