90th Anniversary Celebration
On August 29, 30 and 31, 2019, the Department of Aerospace Engineering and Engineering Mechanics hosted a celebration of the 50th anniversary of the first lunar landing, the 90th anniversary of the department and the bicentennial of the University of Cincinnati.
We explored the incredible history of the department, looking at "What's Next" in aerospace, and celebrating the life and legacy of former UC Professor Neil A. Armstrong.
Historical Timeline of Department
Decision made to create Aeronatical Engineering department. Search for chair begins.
The Aeronautics Engineering program at the University of Cincinnati begins, chaired by Bradley Jones.
Jones had already invented the instruments to navigate in flight without view of the ground - an aviation sextant and Earth Inductor Compass, as well as a flight indicator.
Jones developed the initial curriculum with consulation by Orville Wright. 
First Aeronautical Engineering class graduates.
Bradley Jones, department chair, serves on the Civil Aeronautics Bureau, preparing for expanded civilian pilot program as tensions that led to World War II increased.
Ray Bisplinghoff graduates from department. He will go on to serve in the Bureau of Aeronautics, as a professor at MIT, an assistant administrator at NASA, helped plan the Apollo 8, 9, 10, 11, and 12 Missions, and as the dean of engineering at MIT.
Department began "Goodyear Girls" training program for women undergraduates to be airplane factory supervisors.
Department changes name to Aerospace Engineering after the launch of Sputnik and subsequent space race.
Graduate programs begin with M.S. and Ph.D. programs in department's newly formed Institute of Space Science.
Paul Harrington appointed department head.
Graduate program partnership with General Electric (GE) begins that continues today, combining work at GE with thesis research at UC.
The Center of Excellence in Propulsion established with Widen Tabakoff as the director.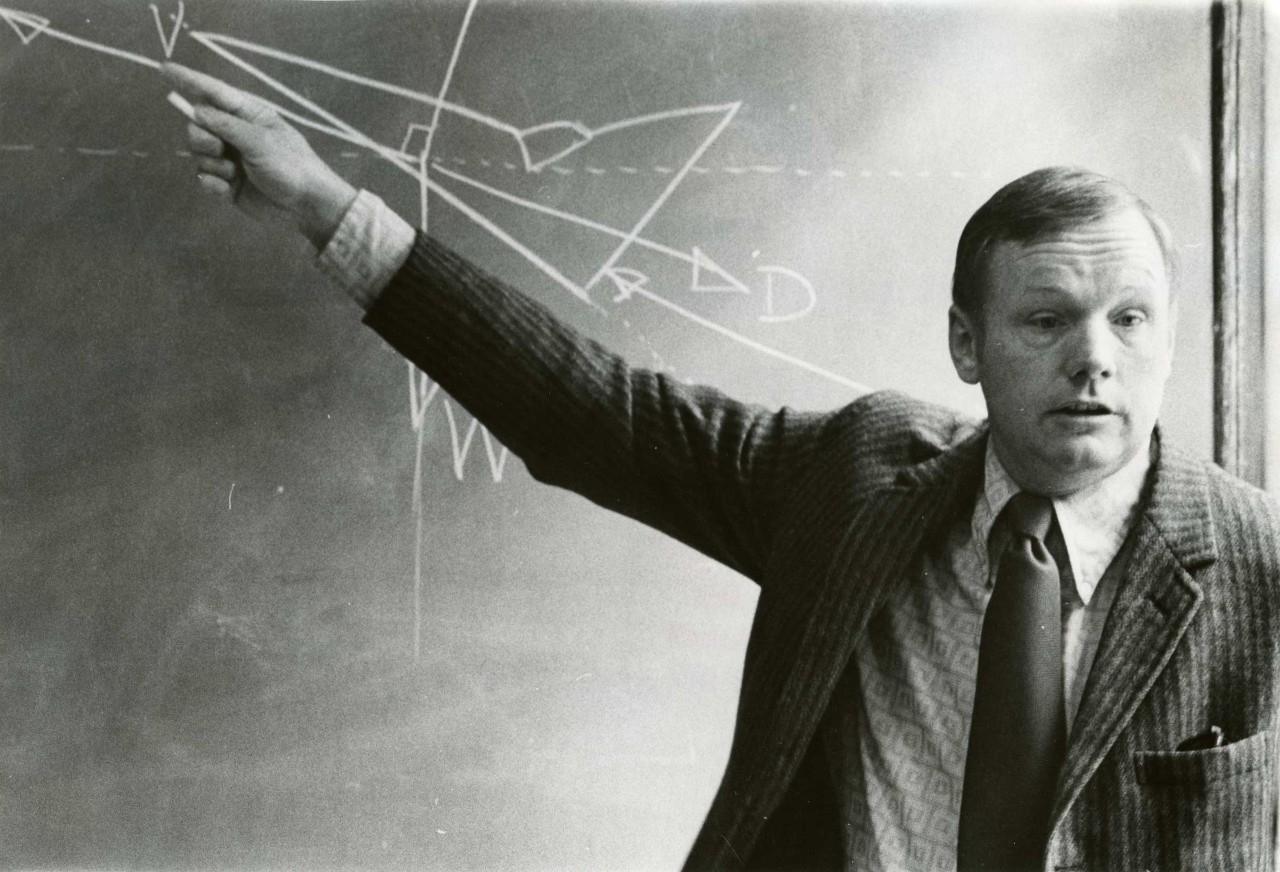 Neil Armstrong joins department faculty. He will teach UC aerospace engineering students for nine years.
R. Thomas Davis appointed department head.
Awatef Hamed becomes first woman to join aerospace engineering faculty. She will become department head in 2001.
Stanley Rubin appointed department head.
The department establishes a NASA Center in Computational Fluid Dynamics in 1980, one of only seven NASA-funded centers nationwide.
George Simitses appointed department head.
Gary Slater appointed department head.
The Gulfstream V receives the Robert J. Collier Trophy for outstanding achievement in U.S. aviation. Richard Johnson, a 1973 graduate of the department, oversaw its design and certification.
Awatef Hamed becomes department head.
Department receives $4.3 million OCAPP Grant and uses funds to build Center Hill Research Facility.
UC Aerospace Wins $27.5 million Center for Intelligent Propulsion & Advanced Life Management from ODoD.
UC named an Ohio Center of Excellence in Intelligent Air and Space Vehicle Energy Systems.
Professor Widen Tabakoff Propulsion and Gas Dynamics Lab dedicated.
Paul Orkwis appointed as Director of School of Aerospace Systems.
Ou Ma named Alan Shepard Professor of Aerospace Engineering. Kelly Cohen appointed interim department head.