Bioresponsive Materials Lab
Our lab seeks to develop biomaterial and therapeutic delivery systems that specifically respond to cell-generated signals. These next-generation, "smart" material systems enable us to engineer comprehensive regeneration of damaged or diseased tissues
Specific applications for these healing-responsive technologies include:

Large-scale regeneration of orthopedic injuries or defects
Healing of chronic skin wounds
Elimination of dental implant infections
The Bioresponsive Materials Lab is located in room 549 in the Engineering Research Center (ERC) at the University of Cincinnati in Cincinnati, OH.
Address:
828 Engineering Research Center
2901 Woodside Dr
Cincinnati, OH 45221
Follow us on Twitter! @MartinLab_UC
Faculty & Principal Investigator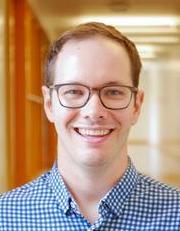 John Robert Martin
Assistant Professor, CEAS - Biomedical Eng
134 UCBIOSCI
John R. Martin is an assistant professor in the Department of Biomedical Engineering in the College of Engineering and Applied Science at the University of Cincinnati. Dr. Martin completed his undergraduate degree at the University of Kentucky where he majored in Biosystems Engineering before obtaining a Ph.D. in Biomedical Engineering at Vanderbilt University investigating cell-degradable tissue engineering scaffolds. Following his doctoral work, he completed a postdoctoral fellowship at the Massachusetts Institute of Technology in the Department of Chemical Engineering where he researched drug delivery systems for the regeneration of craniofacial bone tissue.
Dr. Martin leads the
Bioresponsive Materials Lab
at UC, exploring "smart" biomaterial systems that leverage precise cell-generated signals (including reactive oxygen species and enzymatic activity) to activate biomaterial functionality and guide tissue regeneration. This interdisciplinary research integrates polymer science and materials engineering alongside pharmacology and biology to build new systems for regenerating orthopedic injuries in the clinic.