Nanoworld Laboratories develops innovative smart materials, sensors and devices by intersecting the various disciplines of science and engineering. The main concentration of research is in the Nanotechnology, Biomimetics, Composites and Smart Structures fields. The Nanoworld Laboratories are an exciting interdisciplinary experimental-theoretical learning environment for undergraduate through PhD level students.
The labs are an interdepartmental research laboratory group which includes faculty from Mechanical Engineering, Materials Engineering, Chemistry, Aerospace Engineering and the UC Medical School. The focus of the laboratory is to integrate different aspects of engineering and make a final product that could be put into practical use. The projects currently in progress at these laboratories includes a blend of: 
Aeronautical Engineering
Mechanical Engineering
Civil Engineering
Electrical Engineering
Material Science Engineering
Chemical Engineering
Students at this laboratory have an option of choosing courses from various fields of engineering to satisfy the completion of the projects that are in progress. Nanoworld is part of the National Science Foundation Engineering Research Center for Revolutionizing Metallic Biomaterials (ERC-RMB). The Nanoworld Lab Group is comprised of seven laboratories, each with a specific research focus.

NanoWorld Synthesis Laboratory
414 Rhodes Hall
Phone: (513) 556-4652
NanoDevices and Measurements Laboratory
414B Rhodes Hall
Processing and Characterization Laboratory
507 Rhodes Hall
Materials Processing Laboratory
611A Rhodes Hall
Scanning Electron Microscopy Laboratory
315 Engineering Research Center
Substrates and NanoMaterials Processing Laboratory
581 Engineering Research Center
Phone: (513) 556-4658
Pilot Microfactory Laboratory
587 Engineering Research Center
Phone: (513) 556-4658
Nanoworld Labs Graduate Student Office Suite
401 Rhodes Hall
Phone: (513) 556-0921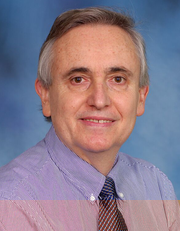 Vesselin N. Shanov
Professor, CEAS - Chemical Eng
580 MANTEI
Short Biography.
Vesselin Shanov is a Professor with the Chemical Engineering program at the School of EEBME and the co-founder and co-director of the teaching and research facility
NANOWORLD Lab
at the University of Cincinnati. He has over 30 years of academic and industrial experience in research and development related to technologies and facilities for processing of advanced materials and thin films.  Dr. Shanov has been a tenured associate professor at the University of Chemical Technology and Metallurgy, Sofia, Bulgaria, where he also served as an advisor to over 40 graduate students. He has taught eighteen courses at the University of Chemical Technology and Metallurgy, Sofia, Bulgaria and eighteen courses at the University of Cincinnati. His recent research focuses on synthesis, characterization, processing, and application of nanostructured materials with emphasis on carbon nanotubes, graphene, as well as on biodegradable Mg for medical implants. Applications of his research are in the areas of electronics, aerospace, and nanomedicine. Dr. Shanov has more than 300 scientific publications, including 16 patents, 12 provisional patents, and 5 books, cited in about 3,200 different references. Currently, he collaborates with faculties from UC Colleges of Medicine, Applied Science, and Engineering, Oklahoma State University, North Carolina A&T State University, the University of Pittsburgh, and Hannover Medical School-Germany. The latter 3 universities, along with UC, are involved in the NSF Engineering Research Center for Revolutionizing Metallic Biomaterials.
Teaching Summary,
Taught 25 different courses (listed below) in Materials and Chemical Engineering at two universities; incorporated nanotechnology research into the engineering curricula at UC; teaches advanced topics in Chemical and Materials Engineering in the undergraduate Tech Lab Class, such as: Renewable Energy (Solar Cell, Hydrogen Fuel Cell), Nanotechnology (Carbon Nanotubes and related Nanodevices), Modern Analytical Instrumentation, Vacuum and Plasma Technologies, etc.
Considers undergraduate students (UG) research to be a very important tool for teaching engineering, as well as for student retention; works on an individual basis with undergraduate students in the research lab; 3 of my undergraduate students won national aerospace awards for research.
Believes teaching through the respected program at UC "Research Experience for Middle and High School Teachers" is a powerful outreach approach that indirectly helps recruit young adults in the field of science and engineering; involved in a 3 year NSF project as Co-PI (Prof. A. Kukreti–PI) and collaborates with Cincinnati School District teachers at UC by teaching a topic on Renewable Energy.
Hosts tours of Nanoworld Lab; more than 1,000 students, parents, industry professionals, faculty and Government representatives visit Nanoworld each year; the Nanoworld Lab website is one of the most frequently visited websites at UC.
Hosts weekly lab tours at the College for recruiting prospective students which include presentations on the latest achievements in renewable energy, nanotechnology and other science fields.
Hosts and teaches in Summer Institute for minority middle and high school students, since 2010.