Integrative Biosensing Laboratory (IBL) ​
In partnership with the College of Engineering and Applied Science, Cincinnati Children's Hospital, Center for Stem Cell, and Organoid Medicine (CuSTOM) at Cincinnati Children's Hospital , the Integrative Biosensing Lab studies:
Miniaturized electrokinetic devices ​ for precise sensing and measurements
Smart Scaffolds for tissue engineering and regenerative medicine​
Microfluidics for point-of-care diagnostics and drug screening ​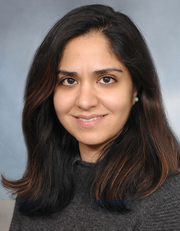 Leyla Esfandiari
Assoc Professor, CEAS - Biomedical Eng
MANTEI
Dr. Esfandiari joined the College of Engineering and Applied Science at the University of Cincinnati as an Assistant Professor with dual appointment in Electrical Engineering and Biomedical Engineering. She completed her doctoral degree in Bioengineering from the University of California Los Angeles (UCLA). She earned her Master of Science in Biomedical Engineering from the University of California Irvine with focus on design and development of a microfluidic platform for studying neurogenesis. Also, she obtained her Bachelor of Science in Electrical Engineering from California State University.
While at UCLA, Esfandiari also conducted research for the California Nano-System Institution (CNSI), and the Orthopedic Surgery Laboratory. During her academic training, Esfandiari has spent time giving back by leading and training graduate and undergraduate students in conducting research and experiments. Besides her academic practice, she has 4 years of industrial experience at  Applied Medical Co and Honeywell Inc.
Dr. Esfandiari has a multidisciplinary research background in development of Microelectromechanical Systems (MEMS) for studying cell mechanics, nano-surface chemistry and development of molecular biosensors. At University of Cincinnati, she is leading the Integrative BioSensing Laboratory with the main focus on design and development of miniaturized biosensors and bio-platforms for point-of-care (POC) medical diagnostics, preventive and therapeutic medicine.